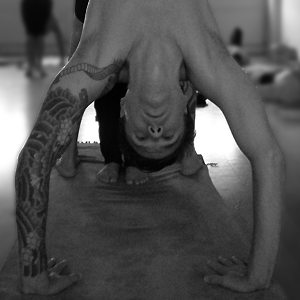 Right now my practice seems to be focused on trying to drop back unassisted. I reread Laura's great post "feel the fear and do it anyway" and all the comments written back in July 2008. Doug made some really useful comments about the correct vinyasas, and I'm sure Santa will be getting me Lino Miele's book.
Reading back over the post and boy can I relate to those feelings of fear. I also made an infuriatingly reasonable comment at the time which seems unattainable just now. A few weeks ago I attempted dropping back unassisted and landed on my head, not once but twice. I also managed to hurt my wrists doing so. If it's "once bitten, twice shy" then it seems "twice bitten, thrice shaking with fear" applies in my case.
I'm getting to around Supta Kurmasana and beginning to experience fear about the approaching back bends. I also notice my tendency to focus on the negative in my practice. So it's worth noting that my wrists which were causing me such pain for weeks are feeling much stronger and my energy levels during the practice are good. When I'm feeling a little cheeky I like to do a little jump back and a little jump through when I'm doing my vinyasas.
Back bending is about opening the heart and opening the heart is not happening while fear is happening (to be read in an Indian accent). This week has been rather difficult besides the full moon, I missed practice on Monday due to a user error with my new GuyPhone, Tuesday's practice felt great until back bends where I was grunting and groaning while trying to drop back on my own and then shouting out F*&ck! as I came up from my assisted drop backs with Nick. Shameful behaviour in a sacred space I know, but the word just erupted from my chest.
During and afterwards my legs were shaking and I was in tears at one point. If my breathing is anything to go by then I appear to be pushing too hard. At the same time I'm aware that my fear seems to be the obstacle that I need to overcome. Nick seems pretty convinced that physically I'm capable of dropping back unassisted. I'm just having a little trouble proving his theory.
I'm also really struggling with my own sense of frustration, frustrated by my own fear and not having achieved a particular goal. On the other hand what happens after one can drop back and come up to standing unassisted? Does wealth and happiness come? I doubt it. Life will be much the same and my mind will be much the same. In fact besides a very few yogis and my partner none else even knows or cares about my back bends.
Let's not leave out my competitiveness either while we're at it – David successfully dropped back and rose up from his mat to standing a few weeks ago. Impressive stuff! Beate dropped back for the first time this Tuesday Congratulations! I did a little clap when I saw it too! But there's a little whiny voice in my head going: "but what about me?". I know, I know, it will come. "Practice, practice and all is coming" a wise man once said.
So here I am wondering how the hell I'm going to accomplish this seemingly impossible feat. I'm reminded of Bhavani Maki's words at a recent workshop "Yoga is the process of the impossible becoming possible". I'm just hoping that faith is NOT required, as I'm scratching around for it at the moment. persistance I can do, turn up and get on the mat I can do. Breathe during backdrops? Well that's a work in progress like the rest of my practice and life.
POSTSCRIPT: 9 Months later I dropped back! Read the post here.