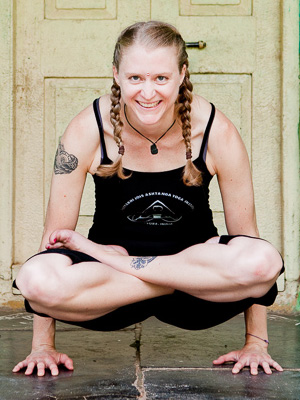 Hannah
Hannah first discovered yoga at York University in 1995 and quickly became Treasurer of the Yoga Society there. Back in her home town of Brighton she attended various yoga classes and courses, mainly in Hatha and Iyengar. When she was introduced to Ashtanga in May 2009, she quickly realised she'd found what she didn't even know she'd been searching for. But she had the usual excuses of not being able to commit to a daily practice – not enough time, money, or energy. Yada, yada. After the first week she was exhausted but hooked. Somehow she found the time, money and energy and has been committed to a daily practice ever since.
Her first teacher was Sarah Miles at BNHC, and when the Brighton Ashtanga Shala opened in February 2013 she moved over to authorised teacher Jess Davies, who she continues to practice with today. She made her first trip to Mysore in January 2014 to study with Sharath Jois at KPJAYI, and enjoyed it so much she went back for a second 3-month trip in October the same year.
Hannah has finally moved away from the 9-5 corporate life she's always known and is proudly following her dream of being a Thai massage therapist and writer. A born and bred Brightonian, Hannah loves to watch movies at the Duke of York's Picturehouse, enjoy a morning brew at Small Batch Coffee Company, and hunt down the finest raw, dark, organic, fairtrade chocolate she can find. She also writes a personal blog, Ashtanga and Angels.
Hannah's latest blogs:
Meet the rest of the team:
Meet our Founder:

Meet our Film-maker: