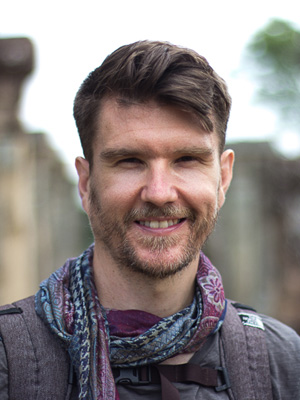 Guy
Having been introduced to yoga and Advaita Vedanta by Billy Doyle in North London in 2002, Guy did what all Londoners eventually do – he moved to Brighton. He discovered Ashtanga yoga at Brighton Buddhist Centre with Kevin Donavan (aka Moksaraja), and developed a daily practice with Sarah Miles at BNHC in 2006. Inspired by the practice he decided to create a website to support the local Ashtanga community, and Ashtanga Brighton was born with its first blog post in October 2007.
He continues to be influenced by great Ashtanga teachers like Guruji, Sharath Jois, John Scott, Nancy Gilgoff, Richard Freeman, and Matthew Sweeney.
Guy is passionate about freedom and creativity, and helping others get free – which is hardly surprising since he grew up in apartheid South Africa. He's always been inspired by Nelson Mandela, as well as Gandhi which may partly explain why he feels so drawn to India. He made his first trip to Mysore in November 2013 and feels strangely at home there.
Guy lives in Stockholm with his son Cosmo. He runs a content marketing agency, Wildheart Media and teaches a weekly yoga class at SATS Telefonplan.
For being my first (and such an excellent) Ashtanga teacher in Brighton after such a long gap in my practice, thank you!
You made me fall in love with it all over again. – Anu
You are a wonderful teacher and it's been a real pleasure to be renewing my Astanga practice at this important junction for me, so thank you. – Edina
Guy's latest blogs:
Meet the rest of the team:
Meet our Editor: