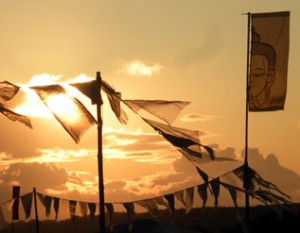 Hannah and I went off to Buddhafield this year for the first time together. We met there last year so it was something of an anniversary. It's a really awesome festival and we had a great time! Joey who used to teach at Triyoga in London was there taking the morning led Ashtanga classes. He has a nice teaching style and I appreciate his sense of humour.
The morning classes had 20+ people of mixed level all practicing in a big tent on a slope, which made the standing postures fun! It was just the break I needed in my practice. A new group of people in a new environment was just the thing I needed to break me out of the difficult cycle I've been in recently.
The musical highlight for me was being introduced to the honey voiced Carrie Tree who has just recorded her debut album. Some of my other favs Bindu Babas (whom I can't seem to find anywhere on the web) and Martha Tilston were also there playing live accoustic sets. Avalon Roots were also a band I'd not heard before which were pretty cool too.
I did some Soulful Singing with Mahasukha which was good fun and went to Jewls ecstatic dance and we did her couples Heart Tantra workshop too. I also caught Christopher Titmuss an excellent Dharma teacher giving a talk on love.
To read more about Buddhafield why not check out my blog posts from last year Buddhafield 2008 and Connecting with abundance.