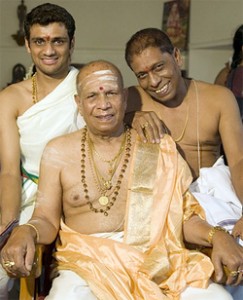 It's with great sadness that I learned today that Shri Pattabhi Jois passed away this morning at the age of 93.
I received this message from Joseph on Monday night:
" Yes Guruji passed away about 2;30pm India standard time. His body was lying in state for all to come and pay their respects in the middle of the yoga shala for the afternoon and evening, The men then took him out to the crematorium and his son lit the funeral fire. We just returned home at 10:30. Namaste, Joseph"
This remarkable man touched the lives of so many.
Our thoughts are with Manju and Guruji's family and friends.
Om Shanti