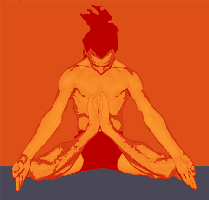 At the beginning of September Joey Miles visited Brighton to teach a weekend workshop:
Joey is a very good teacher. He is knowledgeable, clear, funny and humble. Too many yoga teachers, especially in the Ashtanga tradition, think they know it all and that their job is to pass this on in an unquestioning fashion. Joey isn't like that. He has been to Mysore. He has practised with the best. He gives them due respect. But he also makes clear his preparedness to be more pragmatic. And he is willing to share his own yoga journey – how he has changed, the mistakes he has made. He gives you confidence that he has been through the same issues/concerns that you have and come through the other side. He seeks questions and answers them honestly and with good insight. He demystifies Ashtanga and talks common sense!
We could only make the second day of the workshop due to other commitments. The first half was a led "count through in Sanskrit" practice. Joey spent some time explaining the value of the counting method for focusing attention on the breath, for slowing the breath down and for keeping the collective breath/movement together. We have done "counted" classes before and this was fun. We both have some reservations about the method though – we felt that the complexities and inconsistencies of the counting system (which Joey freely admitted and joked about) sometimes militated against the meditative focus it is designed to induce. His adjustments were firm and safe. The packed room got very hot and sweaty ! The long Savasana was delicious !
After lunch, we focused on inversions which Joey rightly pointed out rarely get the attention they deserve in Ashtanga. The preparatory sequence he proposed (Down Dog and Standing Forward Bend) which stretches the upper body was very helpful. Neither of us are confident in Handstand but he got us up there ! And his emphasis on alignment was good. Similarly in Headstand, where his technique with narrower elbows, less clutching of the back of the head with the hands and lengthening out of the waist, made the pose feel lighter and easier to maintain. Towards the end of the afternoon, we focused on the Shoulderstand sequence and the importance of not holding the weight on C7 in the neck. This was very interesting, as research suggests that Shoulderstand is one of the yoga poses most likely to lead to injury. His preparation work for shoulderstand was very good and both of us got higher and more comfortable in Setu Bandhasana than ever before. Throughout, this session was interactive, sometimes working with a partner, and Joey's approachable and informative style excelled.
Sometimes you go to workshops and don't feel you have learned much really. This was different. We would have no hesitation in recommending Joey's workshops.