Hebden Bridge October 2012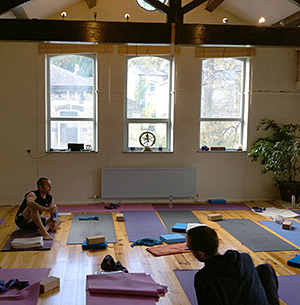 I met Joey and Donna about 5 years ago at Santosha yoga camp near Glastonbury where he was teaching.
For those who don't know, Joey is one of the most advanced Ashtanga practitioners in the UK. Wow, sounds impressive doesn't it? What's even more impressive is that it's not gone to his head – yet!
Over the last two years he's come down to Brighton to teach two very successful weekend workshops. Check out these interesting posts written by attendees of his Brighton workshops:
Both he and is lovely wife Donna have level 2 authorisation to teach by the KPJAYI. Joey is also virtually certifiable – in the Ashtanga sense that is. A lot of people are authorised but only a handful have what it takes to be certified. The only teachers in England who are certified are Hamish and Phillipa. Having worked with Joey before I was expecting the weekend to contain some intense asana practice, yoga philosophy, chanting and technique work – and I wasn't disappointed!
I was rather pleasantly surprised by how good the train connection from Euston to Manchester is – less than 2 hours!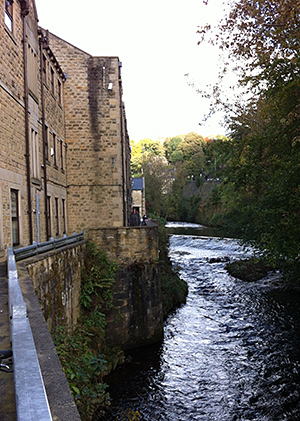 Ashtanga Yoga in Hebden Bridge
Hebden Bridge is a stunningly pretty middle English town – perhaps they all look like this? It's been my first exploration of middle England so I have no idea. I'm not sure if there is such a term as middle England but there you go! The workshop was held at the Calderdale Yoga Centre. The practice space was also really nice – a dedicated yoga studio with nice high ceilings, wooden beams, loads of natural light and a wooden floor. Having a nice practice space makes such a difference and set the tone for the weekend nicely. The workshop was sold out with a over 20 practitioners with a wide ranging levels of experience which made for a balanced group.
Saturday morning
The morning session was a Sanskrit counted led primary class with a twist. Did you get the play on words there? Ah well never mind, I couldn't resist! We held the postures much longer and also Joey's instructions led us to exploring and accessing parts of our bodies even we (practitioners) didn't know existed. The emphasis was on the standing postures and maintaining action in the legs. I'm sure you've all heard the instructions in the standing poses 'lift up on your kneecaps' or 'engage your quadriceps' or 'keep your legs engaged'. This was similar to that but focused on the insides of the legs, feet and the buttocks. It was really hard work and fascinating to discover apparently 'dead' or 'dormant' areas of the legs and feet.
We did a full counted primary with back bends and drop backs too. In my experience this is rare for a workshop – but I'm assuming it was right for the level of the group.
Saturday afternoon
The afternoon session was Sanskrit chanting of the first pada of Patanjali's Yoga Sutras. Chanting has been part of my practice since the early days so I always enjoy these sessions. Joey added a brief commentary to some of the sutras but the main focus was on making the sounds and chanting together as a group.
Saturday evening
On Saturday evening we headed out to a local pub in Hebden Bridge which was having an Indian night – the tali was great! Beer, wine and cider flowed freely. I got into a rather interesting discussion with Marie and Joey about the role of fathers and relationships between fathers and sons. More on that another time!
Sunday morning
On Sunday morning we worked on handstands and arm balances which again are great fun for me – I was pretty tired from Saturday's marathon led class but I don't spend any time exploring handstands or much in the way of arm balances in my daily practice so I really enjoyed this too. We did a few preparatory postures and then it was off to the wall to fling ourselves up against it. We also did some partner work too which was fun as it helped to break the ice between practitioners – always a good thing.
Sunday afternoon
Sunday afternoon was a nice long restorative session with loads of bolsters, blocks and blankets – I really enjoyed this after the previous intense sessions of asana practice and it balanced the workshop out nicely. It also meant that I could still walk on Monday which is always nice. One of the things I like most about Joey as a teacher is that he's not scared to work deeply and do intense work and he also balances this out nicely with other aspects of practice like the chanting and restorative poses. His depth of experience as both practitioner and teacher is really appreciated.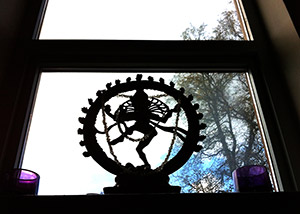 What next?
We're planning on a doing a couple more workshops in Brighton next year and there will also be some yoga holidays in warmer climes with Joey that will be worth checking out too.
To find out more about what Joey and Donna are up to you can visit www.ashtangayogaleeds.com or like their Facebook page.
If you fancy reading more about Joey's Brighton workshops here are those links again: