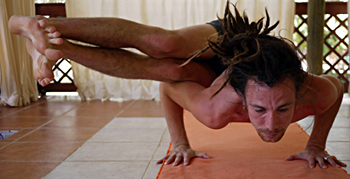 I'm very excited that Joey Miles will be coming to Brighton to teach a weekend workshop in March 2011. I first met Joey 2 years ago at Buddhafield festival where he regularly teaches the morning Ashtanga classes. I bumped into him again at Santosa yoga camp and we got chatting. Since then we've gotten to know each other a little better and it was through our mutual friend Chris Swain that we got the workshop idea off the ground.
For those who've never been in Joey's classes he inspires and challenges in all the right ways. I think he's a great teacher and he's also a householder with wife and two young children which is pretty cool.
We practiced next to each other at Santosa this year and his graceful and strong 3rd series practice was quite distracting!