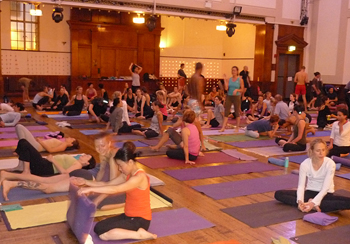 In mid August we took a week's holiday from work to practice with Sharath in London as part of his European Tour. We had been planning to commute from Brighton which would have entailed a 3am start to catch the first train to King's Cross every day, but even we're not quite that insane. Luckily we found a friend willing to lend us their holiday flat – a gorgeous, rustic-style, attic flat in Notting Hill – very Portobello!
So we were able to swan about town like true Londoners after our daily morning sessions; although as we soon discovered we were a lot more prone to snoozing than swanning about as the week wore on! Our first commute to the Camden Centre on Sunday morning was filled with anticipation and excitement and we soon discovered we weren't the only ones who'd hardly slept a wink the night before (and I don't think that was purely down to our friend's dog repeatedly jumping on us in the middle of the night either).
The whole room was buzzing as we jostled into place on our mats but a sudden hush fell upon the 150-strong Ashtangis as soon as Sharath walked in. And, just as expected, he greeted us with "Samastithi", then the opening mantra, then "Ekam…Dve…Trini…" and off we went. This was the traditional Sanskrit count with the correct vinyasa; no frills; no funny business; just straight up led primary. And it was amazing! Sharath has the steadiest, slowest count I've ever experienced; he's like a metronome. Oh except when he wanted to hold us in a posture a bit longer, just to give us a little extra challenge!
This was one of the things that surprised me about meeting Sharath. I'd heard so many things about him – what he's like, how he teaches, etc – so it was incredibly valuable to experience his teaching for myself. And I found he wasn't at all how I expected – he's gentle, humorous and incredibly light. He makes Yoga seem very simple. In the West I think we put too much emphasis on perfection – on getting every posture right – and on progress – getting more and more poses. But he said it's not about the asana; whatever you're doing is your practice. So it was very refreshing to practice with him and experience his approach. It was also a great contrast to John Scott's workshop a few weeks ago which was very exploratory, playful and experimental. Being taught 6 counted led primary classes in a row by Sharath has made me realise how inconsistent I am in my own practice. I take extra breaths in vinyasas and fewer breaths in more challenging postures. I now feel inspired to count his slow, steady breaths in my head, whether I'm in Utthita Hasta Padangusthasana, Sirsana or even the devillish Utpluthih!
Sharath's clear, steady voice became very familiar to me by the end of the week and some of his little sayings will be forever imprinted in my mind during my own practice. Imagine these spoken with an Indian accent: "Don't cheat, don't catch your legs" (in Navasana); "Head down only, don't leave your leg…. Now leave your leg" (coming out of Supta Padangusthasana); "No Chakrasana here" (when people fell over in headstand); "Stay up, don't come down" (in Utpluthih).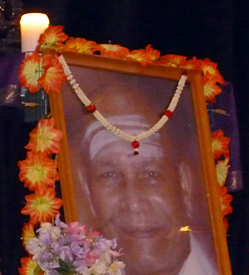 There was a great energy and a wonderful community spirit during the week's practice and it was lovely to see some familiar faces as well as meeting new friends in Guy's Twitter buddies. On the last day the primary and intermediate practitioners all came together in one class for the led primary which brought a different energy again. There was something really moving about the sheer number of people coming together to share such a personal and powerful experience, which is very apt seeing as Yoga means "union". At the end of the final session, after the last vinyasa was completed and Sharath invited us to take rest, the room broke out into spontaneous applause. This was a magical moment and he appeared visibly moved by it. As soon as rest had been taken, a long queue of people formed in front of Sharath to thank him, say a few words and perhaps have a photo taken with him.
From speaking to some of our fellow Ashtangis it seems many people feel inspired to go to Mysore after practising with Sharath, even if they weren't entirely convinced before. I also want to go now more than ever and hope I'll be able to before too long.
I feel quite sad that the week is over but incredibly blessed to have had the opportunity to practice with Guruji's grandson, which is as close to the "source" as I'll ever get. Thank you to Hamish & Anna and everyone who helped make the event such a resounding success, especially the T-shirt sellers who provided a lovely little materialistic challenge after practice every day! And yes, after agonising over it for days, we both finally caved in and bought one of the most expensive ones each! So much for non-attachment.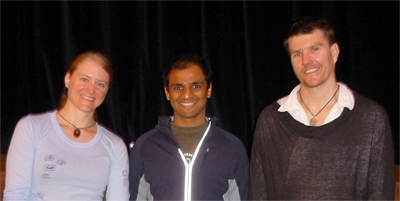 Click here if you'd like to read our notes on the Q&A session with Sharath.
Namaste,
Hannah & Guy