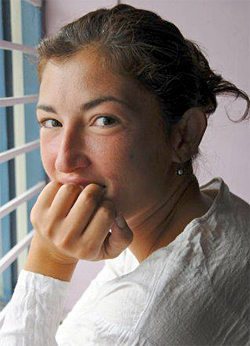 It is with great sadness that I learned that Ozge Karabiyik co-founder of Stillpoint Yoga London passed away yesterday after sustaining a massive internal head trauma and falling into a coma just before new year.
Here is a message from Scott Johnson co-founder of Stillpoint Yoga London:
Dear friends of SYL
It is with the heaviest of hearts that I let you know that our beautiful teacher and friend Ozge has sustained massive internal head trauma while in India. She has been in a coma since 30 December, but this evening passed away.
She has touched so many people and so many lives, and please know that her spirit is moving on to do good work elsewhere. These words from Swami Nityamuktananda have been helping me:
"We are rays of light Divine. To go home is to return back to that light from whom we borrow our existence. May the ray of light , called Ozge rest in the lap of the Divine Mother, she alone knows why things are the way they are; trust the light that it guides the spirit back home, of one of her brightest most beautiful rays"
In light of these incredibly sad circumstances, for the next week normal practice will be stopped. The space will become a place for reflection, joy and love, of how this beautiful woman touched all our lives. I will not be teaching but holding the space for those who would like to come. We will light candles and rejoice in her life as we, indiv idually and collectively, knew it.
The schedule for the week is this:
Monday 2nd January
10am – 12pm – The space will be open for those who wish to come and be together and connect in union as one energy with each other.
Tuesday 3rd & Wednesday 4th January
06:30 – 09:00 – The space will be open for those who want to come and be. To self practice, to sit, to lie, to chant.
Thursday 5th January
07:00 – 08:00 – Nikki Slade, Ozge's Kirtan teacher, will be coming to take Kirtan for us, in dedication to Ozge.
Friday 6th January
07:00 onwards – 108 Sun salutations will be practiced together to unify our energy and connect us as one body, one breath, one consciousness, in her light.
Self practice classes will resume on Monday 9th January.
At this incredibly sad time should you need to speak to me, please call me on 07590 110784.
I humbly bless the energy I have spent with this most inspiring of women. She has taught me so much and will continue to, and it is the hardest thing, to write this email.
I am so sorry for all of you, all of us….
Scott x