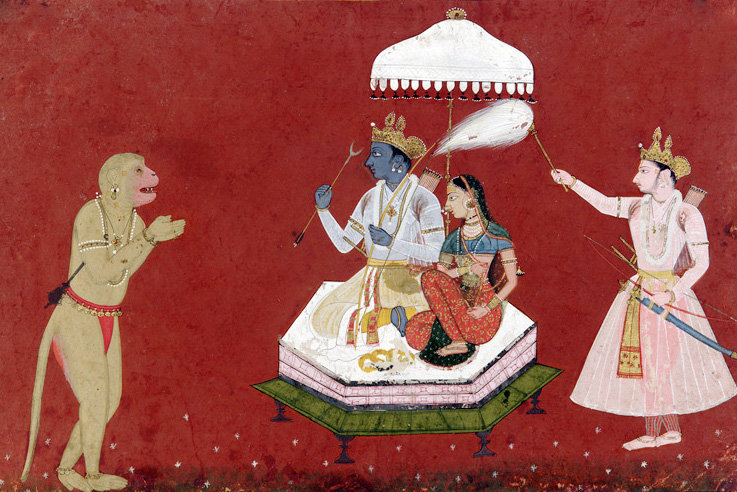 Happy birthday Hanumanji!
The word out on the street is that it's Hanuman's birthday – So rock on Hanuman! Check out Tim Miller's blog post about this most auspicious time. Not only is it full moon but it's also Easter! I particularly like this part of Tim's post: "Hanuman is considered to be the embodiment of what ayurveda calls the 'three vital essences' – Prana, Tejas, and Ojas. Prana is the life force, the Air element that gives us energy, intelligence and adaptability. Tejas, the purified Fire element, gives us glowing health, strength and courage, and penetrating insight. Ojas, the essential Water element, keeps us juicy in mind, body, and heart and gives us endurance and devotion."
The Hanuman Chalisa and other prayers are usually offered to Hanuman during a dawn puja when it's said that Hanuman's power during this time is amplified over a 1000 times.
Origins of the Hanuman Chalisa
The great sage Tulsidas wrote the Hanuman Chalisa while imprisoned by the Indian Emperor. On completing the verses of the Hanuman Chalisa an army of monkeys started menacing the city of Delhi. The story goes that the Emperor tried unsuccessfully to control the monkeys with his forces and finally realised that they were the manifestation of the wrath of the Monkey God Hanuman. He released Tulsidas and the monkeys stopped their mischief immediately. Check out the Hanuman Chalisa on Wikipedia.
Hanuman is an incarnation of Lord Shiva. He's worshiped as a symbol of physical strength, perseverance and devotion. He's a devoted disciple of Lord Rama and also the only deity not afflicted by Shani (Saturn).
A couple of songs for your iPod today: Rock on Hanuman by Mc Yogi and Sita Ram from Narayani's beautiful 2nd albumn Maatri Sharanam.
Jay Hanuman!