Coco loco!
Last year in August while practicing with Sharath for a week in London I discovered the most delicious coconut water branded as Vita Coco. As is well documented around the web in various blog posts there is a tradition for Ashtangis to take coconut water after practice in Mysore at the now world famous coconut stand (if you do a Google image search for coconut stand mysore you'll see pics of your friends hugging each other while sucking on a straw sticking out of a coconut).
No coffee, no prana!
So I have to say I was rather pleased to find coconut water available in London and despite the extortionate price of over £4/litre, I've become a very good customer! One of Guruji's catch phrases was "No coffee, no prana!". Now, anyone that knows me, knows that one of my great loves in life is coffee (rare for an Ashtangi I know!). I find the best beans I can and hand grind them every morning and have an espresso before practice. If you're still reading this I'd like to thank you for your persistance – I do actually have an exciting point to make but I'm just having trouble making it! So, on with the story.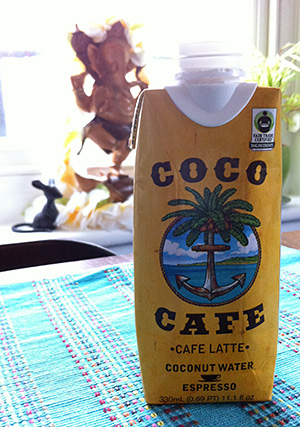 coffee and coconut water? No way!
A few weeks ago Leia came home with a gift, it was a small brown carton with an anchor and palm leaves on it. It's Coco Cafe! "What?!!" I hear you exclaim. "Yes!" I shout. It's espresso, coconut water and milk! Who would have thought of combining these elements! The maddest thing of all is that it actually tastes really good too!
Madonna says yes!
I did a bit of research about Coco Cafe and discovered that it's made by New York based All Market Inc. who are the very same producers of Coco Vita. I also discovered that fellow Ashtangi Madonna invested in the company and has also been a brand advocate. How amazing is all of that?!
How much?!
While I love the product (as you may have noticed) I'm not keen to pay full retail price so it's possible to order a case of 12 from Amazon.co.uk – mine is in the post as you'll see from the Ashtanga Brighton twitter feed. This is probably the best free marketing of their product this year! Er, besides Madonna of course!
Wishing you all happy holidays!
Footnotes:
Apologies for all the exclamations in the headings of this blog post – it's down to caffeine fueled coconut love.
Unfortunately Coco Vita are not paying me to endorse their product. If they would like to send me a case of Coco Cafe I wouldn't turn them down!