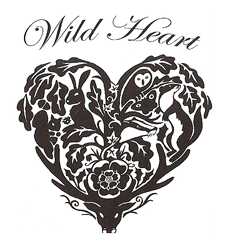 Last weekend we went to the Wild Heart gathering held here in Sussex.
There were around 300 gathered to mark the Autmnal Equinox. We arrived on site on Friday afternoon in time to catch James Low's Dzogchen talk. A rather lovely teaching of being present. James has been teaching for over 20 years and his teaching style is very relevant, clear and direct. It was a great way to arrive at the gathering.
The Wild Heart gatherings are a mix of shamanism and other spiritual traditions. Emphasising connection with nature, ancestors, self, and exploring true masculine and feminine. The site is really beautiful and has a lake that we swam in after a hot sauna. We had truly spectacular weather by English standards too.
As part of the opening ceremony we did a men's and women's lodge which was really quite touching. At the men's lodge before the storytelling, we were asked to bring to mind the names of our Grand fathers and then to call out there names to honour them while sitting around a fire. It was quite an emotional moment for me when I realised that I never met my grandfather on my mother's side and didn't know his name.
I've since spoken to my mother and his name was George. I honor his memory and his name now.
There were also enlightenment intensive tasters that Hannah went to which sounded like rather powerful experiences. In the evening there was live music in a barn which was great and on Saturday night we caught Avalon Roots, one of my favourites from Buddhafield festival this year. I heard someone describe their sound as conscious reggae which seems like a good description.
There was also daily yoga on offer with Suzie Daw and others. I decided not to practice as I'm nursing a couple of injuries at the moment and have taken the week off practice to rest. We were very lucky with the weather and I'd highly reccommend Wildheart to anyone into conscious camping – It's also really family friendly too.