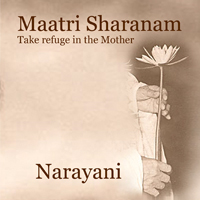 Our Friend Narayani is offering readers of the Ashtanga Brighton blog 15% off on her new album Maatri Sharanam.
Maatri Sharanam (Take Refuge in the Mother), is a collection of traditional Sanskrit chants set to a range of beautiful melodies composed by Narayani. Mixing slow, gentle tempos with upbeat folk-style harmonies, and accompanied by tabla (Indian drums) and violin, Narayani's powerful chanting is at once spiritually uplifting and profoundly meditative. And, whilst honouring the Indian tradition and philosophy of Kirtan (call and response chanting), her compositions have a western influence with wide appeal.
You can listen to and download the album on Narayani's website One Body One Sound. To claim your discount click the add to cart button and then enter ASHTANGA-BRIGHTON underneath the message: Do you have a coupon?
Happy listening!
Namaste,
Guy