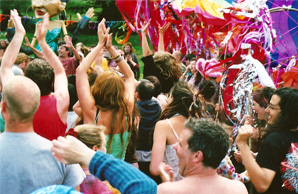 The week following Buddhafield has been rather eventful. Buddhafield was like being strapped to a rocket and shot into another galaxy and what a lovely new horizon it was, what delightful strange unique sights, sounds smells and sensations. This week the rocket returns to earth and it's taken some skill not to be burnt up by re-entry through the atmosphere. Parachutes of compassion engaged! Backup parachutes of kindness and humour engaged.
The main question for me has been this: How do I integrate my insights, meditation, wisdom and experience into my "normal" every day life? There's also a sense of the "magic" slipping away. There's a natural tendency to cling to those experiences that are pleasurable whether spiritual or not. So I'm accepting that change.
I've been journaling a lot recently and today I've been really struck by the a sense of abundance in my life (in stark contrast to how I've been feeling of late.) From time to time I write gratitude lists – a list of all in my life that I'm grateful for, in case you're wondering. It's an intellectual exercise to remind me that things are OK. But I very seldom have an emotional connection with this gratitude. This week has been different. My life feels full, not overwhelming. I feel balanced and happy. I am enough. I'm staring at the words I just wrote! Did I write that? I am enough.
How does this relate to my practice? When I lack connection with abundance in my life as I so often do, then my landscape is littered with obstacles that I have overcome through effort: tiredness, injuries, competitiveness, impatience, anger etc… I also have this nagging feeling that I need to try harder all the time, do more to be better. This week at practice has been great – my mind has been empty of all that and I've just been breathing. There's been no thought of progressing through any series, no highway to travel along. Just being on the mat and connection between body mind and breath (and sweat ; )
When I look back on my life I'm unlikely to say: "I wish I had tried harder" I'm more likely to say "I wish I'd let go and had a bit more fun". Perhaps. It's this playful abundant attitude that I'm loving right now.
Namaste