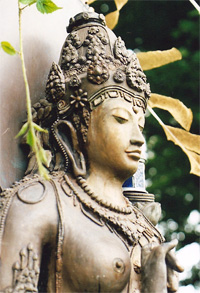 I returned from Buddhafield festival on Sunday evening and have spent the last couple of days just chilling out and acclimatising to life back in Brighton. It seemed like half of Brighton was at the festival so even though I went on my own I wasn't alone by any means. In fact Laura and Mark were camped a few tents away from me.
For those who have never been – I can honestly say that I've had the time of my life! I've directly experienced so much healing, bliss, love and rejuvenation. Each day was an emotional roller coaster full of delights, insights and as many new activities as I wanted.
Some of the highlights for me:
Contact Improvisation workshop – I attended this on my first full day and it really helped me to get into the flow. It involved safe and intimate contact within a group setting with a bunch of total strangers. There was group pair and group work. Kinda like twister!
Christopher Titmuss dharma talk – Christopher delivered a really passionate and concise talk exploring the following two part question in small groups: Firstly what do I need to change or let go of so that I may travel more lightly through life? And, what do I need in place to support this change? Christopher encouraged us to name it directly and share within the groups and then we discussed it again in the larger group. It was such a simple but powerful exercise in considering one's own path and direction in life.
Reconnecting workshops – A series workshops led by an Engaged Buddhist group (can't remember which one) This had me sobbing in tears at both sessions that I attended. The idea behind the workshops is to reconnect with the pain we feel particularly around the harm that we are causing the earth and then explore ways in which this pain can be used to instigate positive change.
Ecstatic dance sessions – with Jewls Wingfield. I'd heard about ecstatic dance before but never experienced it. All I can say is WOW!! I'd forgotten that I love to dance! Jewls was also running Heart Tantra workshops which I checked out too.
Skillful Flirting workshop – This was great fun and freaked people out quite a bit. The definition of flirting used was this: The beauty and love within me recognises and celebrates your great beauty. The homework was to flirt with 3 people that evening. I won't tell you how it went ; )
Anyway, the list goes on and on: There was great food every day, fantastic live bands playing every evening, a couple of scorching saunas (that's right, naked baby!), 35 different yoga classes a day, beautiful Pujas including a Dakini Puja that was more like an ecstatic dance session!
I shot 3 rolls of film so I should have some pics up on Flickr in a couple of days. I also did some practice while I was away but it's been more of a holiday break so I'm really looking forward to getting back on the mat tomorrow morning.
I'll definitely be going regularly and next time going to try encourage a bunch of friends and Ashtangis to come along and experience it too.
Namaste, may all beings be free from suffering.
Guy