Now that I've explored a plethora of dining options within Gokulam and Mysore city centre, the fourth and final instalment of my food guide looks at the other side of the coin – eating in.
Whether you're on a tight budget, miss cooking for yourself or just want a change from curry and rice, there are plenty of ingredients available to make eating in just as enjoyable as eating out.
One important thing to remember is DON'T DRINK THE TAP WATER! Some say the water's not that bad here – at least compared with other parts of India – and they cook with it, and even drink it, but they probably have very sturdy constitutions! Personally I don't think it's worth taking the risk, especially if you're unsure or have been sick in India before. If you get a water dispenser, it only costs 50-80Rs for a 20L bottle so you're not going to run out in a hurry.
These are my guidelines for cooking in India:
Always use filtered/bottled water in the kettle.
Always use filtered/bottled water for cooking, e.g. vegetables, rice, pasta, lentils. Some people use bottled water only when they're cooking something that absorbs all the water, e.g. rice, and tap water when the water will be poured away at the end, e.g. pasta. This is a personal choice, but if in doubt it's best to stick to bottled water.
Fruits and vegetables should be washed thoroughly before cooking or eating. I tend to wash them thoroughly in tap water first, then give them a good rinse with bottled water. You can also buy a special vegetable wash in most supermarkets, or just add some salt or lemon to the water first.
If you're peeling the veg first it should be ok, although I usually give it a quick rinse in bottled water after peeling.
Most tropical fruits have a thick skin or rind that you discard, so these don't need washing first.
You should take extra care with leafy greens like spinach as they will need washing very carefully. In fact, I heard they should be washed at least 6-8 times for optimum safety!
Extra care should also be taken with raw veg and salads, as you don't have the added safeguard of the heat from cooking to help eliminate any nasties.
Basically just use your common sense. It does take a little extra effort to cook here but once you're in the swing of it, it can be really enjoyable.
Key:
$

= cheap as chips

$

$

= mid-range

$

$

$

= expect to pay a bit more

LHS

= left hand side

RHS

= right hand side
Supermarkets
There are plenty of small shops selling basic provisions, but the few supermarkets dotted around the Gokulam area are worth a visit as they have (almost) everything under one roof.
Loyal World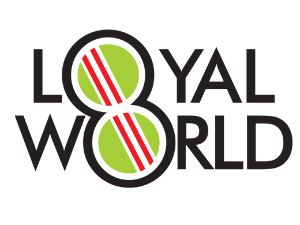 2902/1 Temple Road, V V Mohalla (opposite the bottom of 6th Main, next to Domino's Pizza) $$
Loyal World is a great little supermarket, just for the experience alone! At first glance the packed shelves look like a jumbled mish mash of products haphazardly thrown together. But there is an order to the chaos. And they have a surprisingly large range of products. From grains and pulses to huge self-serve rice bins; from nuts, dried fruits and snack foods to chilled and frozen foods like butter, yoghurt and cheese; from juices, sodas and soya milk to a wide range of imported goods like pasta, pasta sauce, soy sauce, crackers, cereals, peanut butter, honey and even Marmite (at a vastly inflated price). They have a good selection of toiletries and homewares too, like soaps, shampoos, cleaning products, toilet rolls, light bulbs, matches and even incense.
Upstairs is also worth a visit, in fact it's my favourite section! Here you can buy all sorts of useful (and bizarre) things for the home, including crockery, cutlery and kitchen utensils, electrical items, towels and sheets, tupperware, buckets and bins. There's even a luggage section and a toy department.
And within the entrance to the mall, just before you head into Loyal World itself, there's a huge fruit & veg stand plus a bakery section with breads, cakes and sweets.
Be prepared to leave large bags with the security guard outside and make sure you have your receipt handy when coming out of the supermarket, as the doorman will need to punch a hole in it – although I haven't quite worked out why! Open 10am-10pm. http://www.loyalworldgroup.co.in
Easyday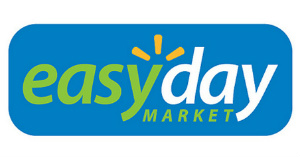 BM Habitat Mall, Gokulam Main Road, Jayalakshmipuram $$
Easyday can be found on the lower ground floor of the BM Habitat Mall – go down the ramp to the right hand side of the mall and the entrance is on the left. It's a much bigger store than Loyal World and feels more akin to a westernised supermarket. It stocks everything that Loyal World does and more. It has a large homeware section with plenty of electrical appliances like kettles and blenders, lots of cleaning and laundry products, stationery, luggage and even a clothes department.
Again, larger bags need to be checked in to security and your receipt will need to be stamped on the way out. Open 10am-10pm. http://www.easyday.in
Reliance Fresh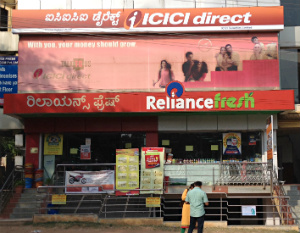 Corner of Kalidasa Road & Gokulam Main Road, V V Mohalla $$
Reliance Fresh is a great little supermarket, stocking largely the same products as Loyal World and Easyday. It's on a slightly smaller scale but somehow manages to feel a lot more organised than Loyal World. The fruits and vegetables looked pretty good here and they also stock toiletries and cleaning products as well as the usual foodstuffs. You can even order online! Open 7am-9pm. http://www.reliancefreshdirect.com
Hindustan's Mega Shoppe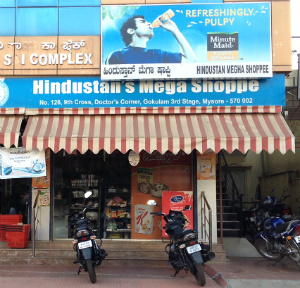 124 1st Main (9th Cross), Doctor's Corner, Gokulam 3rd Stage $$
This mini supermarket was a great find during my last trip to Mysore (Jan-Mar 2013) but this season seems to have a lot less in stock. It's still useful, however, if you're near Doctor's Corner and need essential supplies like toilet roll, soap, shampoo, laundry powder, bin bags, mosquito plug-ins and the like. They also have a certain amount of foodstuffs like cereals, juice, rice, lentils, noodles, biscuits, milk, butter and snacks.
Organic Shops
More and more organic shops are popping up all the time, as local business owners are cottoning on to the fact that both yoga students and residents have very varying, and increasingly pernickety, dietary requests. From vegan and gluten-free to raw and sugar-free, it's now possible to cater for almost every diet out there. And most shop owners are very accommodating, so will do their utmost to fulfil your request even if it's not something they've come across before.
Dhātu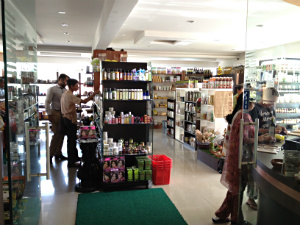 Adipampa Road & 10th Cross, V V Mohalla $$$
As explained in my previous post, Dhātu Organics and Naturals runs a restaurant and shop side by side. The shop sells a wide range of organic produce, from oils and spices to grains and pulses, from cereals and crackers to honey and snack foods. They have an organic fruit & veg section, a chilled section with butters, yoghurts and cheeses, and they also make coconut milk, almond milk and rice milk to order. In addition to foodstuffs they also stock various clothes, bags and gifts as well as a huge range of organic skin care and cosmetics. Open 10am-9.30pm. http://www.dhatu.in
Green House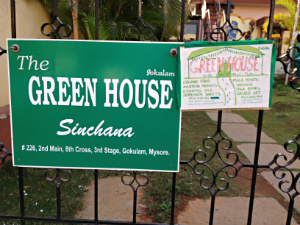 226 8th Cross ("Shala Road"), Gokulam 3rd Stage $$
Pavithra at the Green House is doing a wonderful job of providing a wide range of organic products in the heart of Gokulam, and has just expanded his shop. He offers plenty of organic and homemade items, from ghee and honey to cereals and snacks, from grains and spices to nut butters and teas. Some of my particular favourites are the homemade ladoos (energy balls), the organic grated & roasted coconut and the crispy banana chips. They can make any kind of organic milk to order, including soya, almond, coconut, cow's milk and curd.
The Green House also stocks plenty of Ayurvedic medicines, health supplements, essential oils, incense, jewellery, gifts and a recently expanded clothes selection. They are also probably the largest stockist of yoga books in Mysore, with new publications being added all the time. Pavi is a practising yogi himself and recently started assisting at KPJAYI so he's perfectly in tune with the needs of the local yoga students! Open 9am-7pm. Email: pavithra.ashtangayoga@gmail.com
Nature's Nectar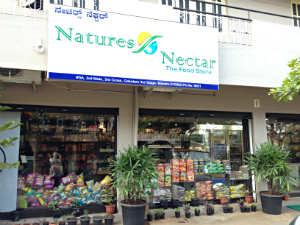 5A 3rd Cross, Gokulam 3rd Stage (entrance on Contour Road opposite Gokul Chaats) $$$
This little Gokulam gem opened in autumn 2014 and has a great range of organic products. Most of their items are imported, so are on the pricier side, but worth it if you want something different. From pasta and oils to cereals and crackers, from chocolate and ice cream to cheeses and yoghurts. They even have Tim Tams from Australia – yum!
They have a great range of organic fruit & veg, including Gala apples (my favourite), avocados, rocket, basil and even broccoli – the only place I've seen it in Mysore. They also stock products from Rustic Loaf – the Green Hotel's bakery – such as ragi bread, multigrain bread, cakes and cookies, as well as the delicious raw chocolates and cacao infused teas from Earth Loaf. Open 9.30am-9pm.
Hasiru Organics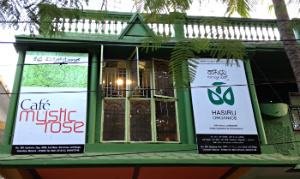 2nd Main, Gokulam 3rd Stage (above Guru & Sons) / 3rd Main, Jayalakshmipuram (off Gokulam Main Road on the way to Easyday) $$
Until recently there was only one branch of Hasiru – the one with the green "Organic Shop" signs on every corner along Gokulam Main Road once you cross over Kalidasa Road. But in December 2014 they opened a second branch – right opposite the main shala above Guru & Sons' little stall.
This is a great shop as it's quite big and stocks pretty much everything mentioned in the other organic shops, and more. As well as the dried and packet foods, cooking oils, health care supplements, cosmetics and skin care, bags and gifts, they're also beginning to sell clothes and yoga products too. They have a few organic fruits and vegetables in the Gokulam branch, but currently the Jayalakshmipuram shop has a wider range of fresh produce.
At the Gokulam branch there's also the promise of an adjoining cafe called Mystic Rose which I'm told is due to open around 15th January 2015, so watch this space… Shop open 9.30am-9.30pm; the cafe hours will be 5am-9.30pm. http://www.hasiru.co.in
Jivamruta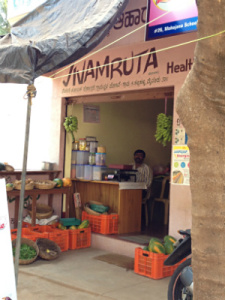 26 Mahajana High School Road, Jayalakshmipuram (1st left off Gokulam Main Road after crossing over Kalidasa Road) $$
This is a small organic health, food and farming outlet on the way to Easyday. It has a selection of organic fruits & veg, grains, pulses, spices, oils, packet foods and some cosmetic items such as Ayurvedic soap and herbal toothpaste.
Fruit & Veg
There are many frui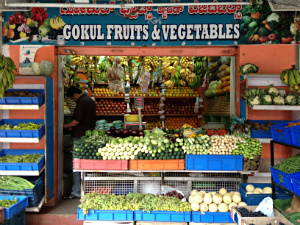 t and vegetable stalls of varying sizes dotted around Gokulam and the surrounding area. Most sell very similar produce, although some specialise only in fruit.
Some of the larger ones include:
"Gokul Fruits & Vegetables", Doctor's Corner: this is one of my favourites as they often have slightly less common veg, like baby corn, courgettes (zucchini) and mushrooms.
"Green Fresh", 2nd right off 1st Main Road from coconut stand (opposite Ganesha temple): they also have a juice stand next door.
1st Main Road on LHS, between Depth n Green and the turning for Sri Durga: one of the larger fruit & veg stands.
Corner of 11th Cross & 6th Main, Gokulam 3rd Stage (opposite the "Secret Breakfast" place): includes a coconut stand.
I hope this gives you a good taste (pun intended) of the kinds of ingredients you can find in and around Gokulam, and to whet your appetite even further, here's a selection of dishes I managed to prepare in my basic kitchen with very limited utensils!
Happy Eating!