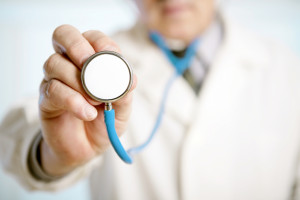 We all know about injuries when it comes to Ashtanga yoga. Maybe you've been injured yourself, or you know someone who has. Or you've seen countless blog posts, articles and interviews about what causes them, how they manifest and how to prevent them reoccurring.
I'm very happy to say that I've never been injured during my 6 years of daily practice (unless I've just jinxed that…!), so I feel like one of the lucky ones. Actually, I don't believe luck has much to do with it and have my own theories as to why people get injured. But let's save that for another day…
That's not to say the practice hasn't taken its toll on my body in other ways, though. Yes, I've had the usual aches and pains and, particularly during my first year or so, I experienced some rather excruciating pains. But I later realised these were all just part of the process. They were "opening" pains rather than serious injuries, as my body was opening and transforming with the practice.
But that's not the only way my body has been affected by my daily practice. And I know others have experienced some of the same things. But all bodies are different so I'm intrigued to know what physical ailments other Ashtangis have suffered from too. OK, they might be a little embarrassing, but come on, we're all human!
So, here are my top 5 symptoms for Dr Ashtangi:
1. Setu Bandhasana scalp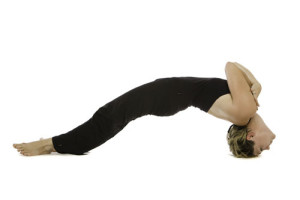 I seem to have developed a very dry, flaky patch of scalp right at the front of the top of my head. I swear it must be from Setu Bandhasana because it's in exactly the right place. And if you think about all that weight going almost onto your forehead, as you roll into and out of the posture, I guess it must be pretty intense on my poor delicate scalp.
2. Supta Konasana heel calluses
You know, the one where you're holding your toes as you roll up from a wide-legged Halasana and come crashing down on the floor in front of you. Err, I mean, lower gracefully to the ground in a controlled manner, using your calf muscles for cushioning. Well, however much you engage your calves, it's almost impossible not to let the backs of your heels make some sort of impact with the (usually hard, wooden) floor. So those calluses quickly develop and I doubt they'll be going anywhere anytime soon.
3. Backbending headaches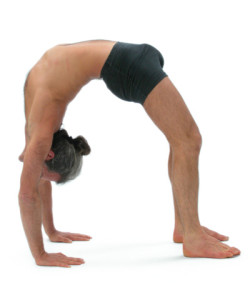 A few years ago I went through a phase of feeling dizzy every time I stood up from asanas like Ardha Baddha Padmottanasana. My teacher at the time thought I might be lacking in magnesium so I started taking a supplement. But that gave me heart palpitations! So I just put it down to the hazards of the practice and it soon went away. Now I seem to get brief but intense headaches every now and then. After my 3 attempts at Kapotasana, followed by 3 Urdhva Dhanurasanas, followed by 3 drop backs and assisted halfbacks, I creak and groan my way into Paschimattanasana, then strongly engage my bandhas as I'm pressed heavily forward. My breathing slowly softens and lengthens, but when I eventually lift my head, there it is. That pounding little reminder of the intensity of what I've just put my body through. Oh and then there's the backbending tears of course, but again, let's save those for another day…
4. Sarvangasana dry patch
I don't actually suffer from this one myself but I know lots of people who do. It's that little patch of weird, dry skin right on the spine, somewhere around the join between the cervical and thoracic vertebrae. And my theory is that it's from Salamba Sarvangasana, i.e. shoulder stand. Well, all that pressure's got to manifest somewhere, right?
5. Garbha Pindasana spinal bruising
Again, not one I've particularly had myself. But it's hardly surprising that rolling around on your spine, attempting to do a complete 360 in only 5 moves, whilst remaining controlled and graceful (but actually looking like an upturned cockroach desperately trying to right itself), with only a thin yoga mat for cushioning, might produce a little bruising around said spine area. Ouch!
– Hannah
What about you?
Have you experienced any of these physical ailments? Or perhaps you have others you'd like to share? I can guarantee someone else will have experienced them too. And nothing's too embarrassing for Dr Ashtangi's clinic!