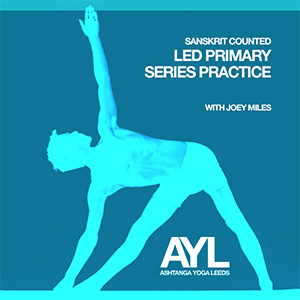 Over the last few months I've been helping Joey Miles from Ashtanga Yoga Leeds with his website. Joey has had a beautifully designed Ashtanga Primary Series Chart made. It's free to download in A4 size.
He's also recorded a led sanskrit primary series practice which is available to purchase as a download from his site. How cool is that? I created all the artwork for all the downloads and also set up the Easy Digital Downloads plugin for WordPress.
I've also done some work on upgrading his email sign up so you can easily sign up to find out more about both his and Donna's upcoming workshops and retreats. Joey's planning on offering printed versions of his chart in different sizes next year – so sign up to find out when they become available.
Joey will be back in Brighton sometime next year for another weekend workshop. If you'd like to stay updated then sign up to the Ashtanga Brighton list.
Finally, I'm off to Mysore for a month on Sunday, that's in only 3 days time! Yes, it's my first trip after 7 years of practice and yes I am excited! Look out for a blog on the topic soon.