I've been in Mysore just over 2 weeks now and it feels like months. I have to say I love it.
Gokulam is not really like India, it's full of western yoga students and cafe's with wifi, organic food and smoothies that taste like pureed baby food.
I'll rewind 6 months to when I made the decision to commit to a trip to India. My main concern was my business. So around 5 months ago we hired our first project manager. Unfortunately all did not go as planned and I had to let them go a week before I departed for Mysore.
So, all my carefully laid plans blew up in my face. I was left with two choices. Cancel my trip and stay, losing over a thousand pounds worth of tickets and accommodation charges and stay in Brighton or stay on track and go despite the last minute turmoil. My decision was further complicated by two additional factors firstly, that my mother was flying with me to Mysore and had also paid for her ticket and secondly that my fiancé, Leia was already in India and we had arranged to meet up in Mysore. I decided to roll up my mat, pack my suitcase and catch the flight. But it was not an easy decision.
My Mum and I met at terminal 5 (T5 to those in the know) where we checked in without any problems. BA however were having a few of their own – they had lost one of their aeroplanes, and it took them a few hours to find, check and clean another one. How can you lose something as big as a Boeing aircraft? No idea, but I think there are a lot of them and they're always moving around so it's obviously a bit tricky to keep track of the things.
We'd gone for the more expensive direct flight from Heathrow to Bangalore rather than cheaper longer options with more changes. I highly recommend this option. In fact I have no plans to try the longer route. The £200 extra is well worth the 8 hour, 40 minute flight.
This was my first long-haul flight in 15 years and my first trip to India so I'm by no means a seasoned veteran of the skies. We did do a few things right though. We pre-booked our seats well in advance – arranging seats right at the back of the plane. It's bumpier but turned out to be pretty quiet, thankfully without any screaming babies. There was one inquisitive Indian child who got on my nerves, who seemed to be constantly asking someone questions throughout the flight.
We also purchased memory foam pillows at T5 which was a sheer stroke of genius because the pillows provided by British Airways are like large teabags! The flight had lots of empty seats at the back of the plane so I grabbed a whole aisle of seats so I could lie down.
Being a Macbook pro, retina display user I was pretty disappointed by the tiny blurry screen embedded in the back of the seat in front of me but I managed to watch all of Pacific Rim. This is essentially a remake of Godzilla meets iron man, so if you like big robots fighting giant aliens and destroying whole cities then this film is for you. I had my urban ears with me so at least the sound was good.
The food on this BA flight was a rather poor, plastic packaged, tasteless affair. But I managed to gulp it down. We also bought a few bottles of water at T5 because there is no way near enough water on the plane. I have to say that the air-conditioning at T5 was brutal, after a 2 hour delay we were feeling pretty dehydrated and we hadn't even got on the plane. Nicky from practice had suggested that we stock up on rehydration salts from Boots which we did and we got stuck into these on the flight.
After the film I stretched out across the row of seats and managed to get a few hours sleep. I woke up and they were serving Indian breakfast – this was worse than the western style astronaut dinner they had served earlier. It looked and smelled like it should have been tasty but it was dull and bland. Still a traveller needs his vitals, so down it went. One hour later we were on the ground in Bangalore. Not a bad first time long-haul flight.
We'd arranged for a driver to pick us up and he was waiting with sign in hand which was pretty cool. As we leave the terminal building just after 6am I'm hit by the deep sweet smell of the Indian air, somehow scented, warm and oily. Like Ghee and incense mixed together. It is strong and overpowering and I instantly love it!
The drive through Bangalore to Mysore is like something out of a Post-Apocalypse Now, Mad Men/Mad Max scene. The city looks like it's being rebuilt as it simultaneously falls apart. Everything is either under construction, derelict or in need of some serious renovation. The highway is strewn with massive billboards promising a most excellent life, superb living, outstanding health, serious relaxation, and divine beauty! Tomorrow is going to be really, really good in India!
The reality is a stark contrast to this. Mangy cows nose their way through intestine strangling garbage while a strange mongrel breed of dog looks on. This same dog can be seen on every street corner. There are a lot of men sitting or standing around doing nothing, gazing into the void. Some are working but most watch. I've never seen a sober Englishman sitting by a roadside staring into space.
The women are fantastically colourful in their saris and seem to be doing most of the work or at least just looking wonderful. They bring both colour and beauty to an otherwise devastated landscape.
The traffic is a nightmare, for the first part of the journey we travel underneath a massive vaulted disused highway on a filthy road littered with cows, people, dogs, bicycles, and colourful lorries inviting us to 'Sound Horn OK!'. The driving style is decaff Italian, with lots of burping, farting and hooting: cheerful and relaxed with a distant, absent-minded goal. Our driver is thankfully silent throughout the 4 hour journey to Mysore, his main mode of communication is to sound his horn for any and every reason. It just seems like the polite thing to do.
My mother dozes while I watch the world spin around me to the hooter symphony. We must have counted more than 6 Engineering Colleges on the road from Bangalore to Mysore. I worry about the syllabus and hope someone graduates soon!
We stop for a toilet break amidst a sea of army trucks parked up along the highway. I'm struck by how many men I see urinating on the roadside on our journey and I become one of them, gazing casually into the middle distance with the roar of the traffic behind me. I never see a single woman squatting by the roadside and I wonder where they go to the toilet.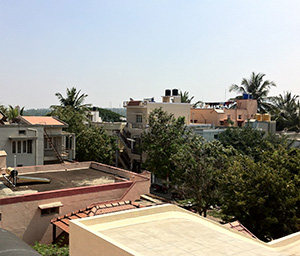 The landscape begins to change as we near Mysore, becoming greener and less populated. I'm feeling a little woozy from the drive, heat, dehydration and lack of sleep but I'm still fascinated by every sight and smell. Vodaphone and Jaypee cement seem to have sponsored most of the roadside houses which are painted in red or yellow emblazoned with hand painted logos. It's a bizarre twist on corporate sponsorship. These are not rich homes.
As we drive into what I later realise is Gokulam the houses get bigger and grander but the roads are still a state. This is a wealthy area for those with means. We arrive on Contour Road, Gokulam 3rd stage around 10:15am.
The flat is spacious and cool but I'm keen to change my money and register at The Shala. We're a 5 minute walk from the main Shala and I've memorised the route from Google maps. I spot the slightly disappointing but legendary coconut stand – I think I was expecting something a bit more Hawaiian style like something out of Magnum PI – I have no idea why.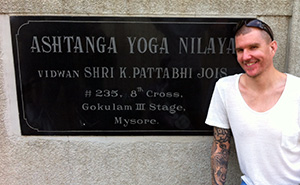 The Shala fits in well with its surroundings and is a secure Waco style complex. Big metal gates and broken glass on the walls. I would have gone for razor wire myself as it's much more effective – but maybe that's my South African heritage kicking in. There's a rather casual but trendy guard at the gate who informs me that registration is at 3:30pm. He directs me to Shiva. He's the local fixer and I need to get my money changed. I opted for carrying a lot of UK currency instead of relying on the ATM to get cash. You can only draw R10k in cash at a time from the ATM around the corner from The Shala.
I settle in to a chair outside Shiva's pink bungalow and idly observe the two pugs who are enjoying the attention of an electric fan. Shiva loves these two animals dearly. They seem spoilt and out of place in this land of the mongrel superbreed. I'm genuinely pleasantly surprised that my 15 minute wait is only 45 minutes. I'm ushered inside to 'do the business'. There's a lot of waving of calculators and the air is full of Rupee notes. I'm assured it's a good deal and take it – whatever it is. I make a judgement call that Shiva is a man to be trusted and not quibbled with. After all, I'll be seeing him again.
But the truth is I have no idea what the actual rate I'm given and no amount of punching the buttons on the calculator, sincere gazing or soothing syllables is going to help. We conclude our business and I'm released back into the sunlight. I return to the flat and get the wifi sorted. My Mum is dazed and confused and not feeling too well. I receive an email from my teacher, Sarah, (who's also in Mysore) inviting me to lunch and giving me detailed instructions of how to get to Anu's – I'd already walked past it twice! Like most places in Mysore you really need to know what you're looking for. Each spot has odd opening times and days and a tiny, carefully concealed sign.
I bump into Chris on 1st Main road. I have no idea why there are so many main roads in Gokulam. I count 6. I wish someone would make up their mind! Chris is a fellow Brightonian who's been travelling the Middle East and Asia for a good few months and is also registering at The Shala. We make our way to Anu's to have a Brighton meetup: Sarah, me, Chris and Doug – 4 Brightonians in Mysore. My housemate Louise is also a Brightonian and she arrives the next day. By my calculations Brighton will be consistently represented in Mysore until March next year. For a city of less than a quarter of a million people it's a pretty good turn out!
After lunch we head down to The Shala. I try and switch my registration from Saraswathi to Sharath's class but all my western charm fails. I'm sent back outside to wait until 4pm when registration for Saraswathi's shala opens. The registration happens in a tiny room that is also The Shala shop. So there's a mix of people trying on clothes and trying to register. It's chaos. The room can comfortably fit 3 people, but there are 7 or 8 of us. We meet Chris a Canadian and Beth from New York. Before I know it I've bought 2 washing up towels, another cotton mat and a vest – and I've not even registered yet! I'm dripping with sweat and I can't understand how much it costs to register for the month or if I have enough money. My new friend Chris who's ended up buying exactly the same stuff as me offers to pay. The windows don't seem to open. It's R28,600 for the month and I do have enough money but I don't have the correct documentation. Thankfully this doesn't seem to be a problem as I'm able to return the following day with a photo of myself. Registration is not digital – or if it is, it's paper first and the computer is hidden somewhere. There's no good reason for a paper registration process. Nope, not one. But in India it seems good reasons are secondary.
Sarah kindly shows us where Saraswathi's shala is and I finally stagger home. My mum has surfaced and we're both getting hungry. Then there's a power cut. It's the last day of Diwali and as we wander out into the dark street we see groups of shadowy shapes swimming through clouds of a thick smog of firework smoke. The air is full of the smell of sulphur and there are constant explosions all around us. We're shell-shocked, tottering around in the dark, stumbling over pavements and avoiding rickshaws, motorcycles, scooters and bicycles. The people on the streets are all strangely silent – the bangers are not. I spot a westerner walking a dog in the gloom and enquire about food. Her response ends with "Good luck!". My feet are blistered and sore and I'm covered in mosquito bites as we make our way back home without finding anywhere to eat. We spot Hotel Vishnu Bhavan on Contour road, it has electricity and we are drawn to it like moths to a flame. Inside Beth is sitting down to dinner with Olle – a lovely Swedish chap Sarah had introduced me to earlier. We join them, collapsing into our seats. They've already ordered and we don't have the energy to decode the menu so we order the same. The food is oily and none of us touches the water that is delivered to our table. But I'm grateful for the food and the company.
Back home we sink into bed. I've been given a rather leisurely start time of 7:30am and manage to get a few hours of exhausted sleep despite the ongoing blitzkrieg. When the alarm goes off I'm instantly excited. I've arranged to meet Beth at 6:30am and we walk to the shala together. We get there half an hour early and we go straight in. We're greeted by a friendly Saraswathi. My first practice is amazing. I feel light and totally energised. It's a different kind of warmth to the heated practice rooms of England. I'm so excited I forget to do parshvottanasana and only remember when I'm into the seated postures. There are two assistants, later I learn their names are Sam and Daniel. I get one adjustment from Daniel in supta kurmasana and Saraswathi helps me with my drop backs. I drop back on my own but don't come up. It's been a while since I've done such intense back bending.
After practice there's a man with an evil looking machete waiting for me. I nod and he hacks into the coconut. I suck happily on the straw and think to myself: "I made it! After 7 years I'm actually here in Mysore!"
Want to see pictures of our trip? Check out our photo albumn on Facebook.