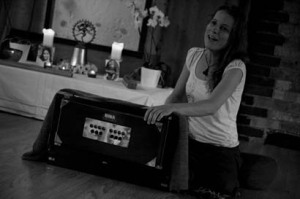 Last Friday Guy and I went to a Kirtan evening led by Narayani of OneBodyOneSound at the Jing Institute on Bond Street in Brighton. My only previous experience of singing with Narayani was at the Santosa Yoga Camp last September where she led a Kirtan on the final evening. This was a beautiful experience where most of the 10-day camp participants all crammed into the candlelit Bhakti Dome, making space for each other on the slighty damp carpet. There were a few meditation cushions and blocks lying around which were quickly planted underneath buttocks, and the few chant sheets that got passed around were barely readable in the dim candlelight anyway. It was definitely a family affair, as children of all ages sang, listened, giggled, squirmed and wriggled their way through the evening.
All of this made for a very intimate, very informal and very spiritual atmosphere. Narayani's beautiful and at times haunting voice carried through the tent and across the field and surely couldn't fail to ignite something mysterious deep in the hearts of all who heard it. I loved the fact there were no instructions, no rules and very little talking in between chants, other than simply an encouragement to join in. Even if we didn't know the words, we were encouraged to feel the vibrations of the Sanskrit sounds moving through our body, mind and soul and to try to reach that part deep inside us that we're rarely able to access. I found the continuous, repetitive nature of the songs meant it was easy to lose myself in them, to lose myself in the beautiful sounds within and around me, until I felt I was almost in a meditative trancelike state and feeling very peaceful indeed.
My first taste of an urban Kirtan evening was quite a different experience altogether. As we arrived at the centre, we were instantly greeted by one of Jing's founder members and told where to pay, where to put our coats and shoes and to sit as far forward within the studio as possible. We were a little late so the Kirtan had already started when we entered the room and found space on the floor to squeeze in. The electric lighting and the hard wooden floor, with only a folded yoga mat for cushioning, seemed a harsh contrast to the carpeted, candlelit canvas dome at Santosa.
I was also struck by how much more structured the evening felt. Rather than Narayani and her two fellow musicians simply playing and encouraging us to join in at any point, this was very much a call and response type affair. Narayani would sing a line and then indicate that we should copy her, or at least attempt to. She would let out the occasional gigglewhen the response line trailed off in an uncertain or out-of-tune melody. Although this helped the evening feel more relaxed and less formal, it did add to the sense that we had to get it 'right'; that we were being taught how to sing the lines properly, almost as if we were in a choir. Personally, I preferred the Santosa approach of just singing and letting people join inwilly-nilly, as it felt more continuous and really enabled me to lose myself in the music. I guess there's no reason why I couldn't have done this, but it didn't feel like the 'done' thing and I was feeling a little self-conscious in the unfamiliar surroundings.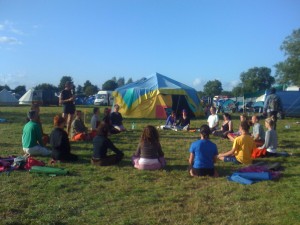 Nonetheless, the evening was thoroughly enjoyable and Narayani was as mesmerising to watch and listen to as always, her voice blending beautifully with the harmonium, violin and tabla. There was a good atmosphere in the room, even if some people seemed a bit tentative at first. I left the Kirtan feeling totally blissed out, and in fact a bit spaced out, as we stepped onto the streets of Brighton late on a busy Friday evening. I'm looking forward to the next Kirtan, which will be led by a different musician, but most of all I'm looking forward to the next Santosa camp where I hope I'll have another magical experience of singing with Narayani in a field, under canvas, in the dark.
– Hannah Moss