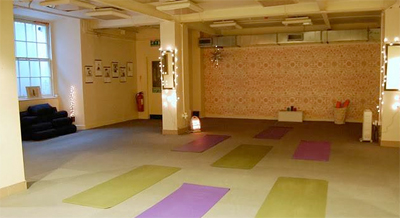 August saw Hannah and I catching a train up to Edinburgh for a mid week city break with my Mum, sister and nephew. On my last trip I'd found Bristo Yoga School located in the centre of Edinburgh to practice at during my stay. Karen who runs the school was rather sensibly away in a balmy warmer Mysore, practicing with Sharath at the KPJAYI. Each morning I trudged through the magical snow-covered streets to the studio where I met and practiced with Tim, a decent Aussie bloke, and another guy with a ponytail – sorry dude, but I can't for the life of me remember your name! You can read more about my last trip and practicing in Edinburgh here.
Fast forward 8 months and this time it's Hannah and I walking in the early morning light to practice. There have been lots of changes at Bristo Yoga School since my last visit. It's had a refurb and there's even a new floor which Tim says was laid about a week ago! Hurrah! No more bandha-busting spongy mats on the floor. We also got to meet the lovely Karen from Florida who is the main teacher of the morning Mysore classes. The other big difference is – lots of students! I didn't count but there were between 15 to 20+ practitioners each morning who are clearly committed to the path of yoga.
The energy in the room was great – soothing, energising and nicely warm. In fact Hannah remarked after our second morning that she felt really at home in the subterranean vault, like we'd been practicing there much longer. I felt it too – it's the energy of Ashtangis coming together to practice as the sun rises, with devotion, dedication and commitment. There's nothing else quite like it.
A big thank you to the Bristo Shala for their hospitality. Anyone looking to practice morning Mysore style Ashtanga yoga in Edinburgh should definitely visit Bristo Yoga School.