After reading my recent post, Why I practice full intermediate, Nancy Gilgoff wanted to answer a question raised in the comments – about why her teaching style has stayed the same over the years. This is how she responded: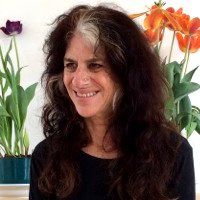 "I read the post and the comments below and of course have much I would like to add to the conversation. I don't usually respond to the blogosphere, however, I would like to answer one of Jose's questions on why, since I so respect Guruji's teachings, didn't I "change" with the updates.
It's a good question and a good starting point. Actually I have made some adjustments. For instance, I teach the extra arm movements in between the prasaritas and some different dristis.  These are not a change of the "method" of learning but rather seem more "structural".
Questions to Guruji
Over the years I asked Guruji MANY times "How should I teach?" His reply was always the same: "You teach the way I taught you." In February of the year he died I asked him again. I knew he was dying soon and I might not see him again. I was in tears and almost pleadingly said to him: "Guruji… everything is changing… what will I do… how should I teach?"
His final answer
Without hesitation he said "You teach the way I taught YOU!" He really stressed the YOU. It was the same wording, only with a different emphasis. He had never done that before. Then he smiled and we laughed at my fears. So Jose, this is WHY I teach the way I do. Out of the deepest love, gratitude and respect, I teach the way he told me to. The way he taught ME.
It is really the only way I (or anyone) can, in truth, teach this practice as it is my experience of it. From the sound of it this is also how you are teaching. I would say this is correct. We each can only teach what we know to have worked for us, from inside out. There will always be different people who need different approaches depending on their physical, mental and spiritual condition.
Primary one day, intermediate the next
Another thing to make mention of… While we were shown the primary and intermediate one after the other, Guruji told us that in our daily practice we should take primary one day and intermediate the next. We were not to continue practising both series in one go. The folks I see today are not following this method. They are doing all of both series almost daily and then they even add some third on to that too. So I'm not surprised they experience "burnout".
In Mysore that is fine to do, but at home when we have "life" happening (jobs, families, school, etc.), we should take one series at a time or split them in the prescribed method. This comes directly from Guruji.
On accepting each other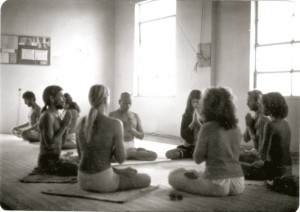 I think that perhaps Guruji's greatest teaching was of acceptance and incredible patience. We were/are a "wild" bunch of folks. And yet he accepted us all into his life and that of his family. He knew us perhaps more deeply than we knew ourselves. Everyone was taught in a manner that was meant just for them. He taught me differently than he taught others who were healthy and strong. Today, these folks teach differently from me. And so they should.
As he accepted us, we were able to accept ourselves and each other. This is yoga. The key here is that we accepted each other as well as ourselves… and we still do. Even though we have different "methods" of teaching the respect is there. The current attitude coming from the later generations of ashtangis does not often reflect this. There seems to be a "my way is better than your way" attitude. I do find this somewhat disturbing.
On the perfect practice and the perfect pose
The perfect practice is the one that is done 6 days a week (no full or new moon, of course, or during ladies' holidays). The "perfect" pose is the one YOU are doing that moment, not the way you see David Swenson or Kino doing it. I think we all would love to be able to do the poses like they can. But the reality is, in the moment, for most of us, that isn't happening. And that has to be okay for yoga to happen.
The perfect pose is without bad pain and without stress… only breath. The correct method is finding that in our own practice, and our role as "teacher" is to help others to find it. Once one finds it then how quickly or slowly we learn primary and intermediate will have little relevance. Keep practising, always coming back to the breath… and enjoy. This is Guruji's system of yoga, I think."
– Nancy Gilgoff