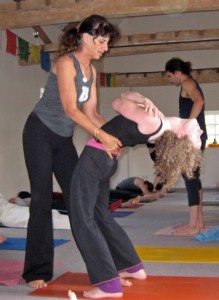 I practise full intermediate.
If that sounds like a smug way to start a post, I don't mean it that way at all. Along the way my mind and body meet many challenges – which means that I would be stopped much earlier in the practice by many teachers. For instance, I don't bind in supta kurmasana. I don't stand up by myself from backbends. I don't bind in pasasana. I don't keep my leg behind my head in eka pada. The list goes on.
So why am I practising full intermediate instead of stopping and 'perfecting' some of these earlier poses? The reason is that my teacher, Nancy Gilgoff, sees primary and intermediate series as working together to form a balanced practice – not as a linear sequence with various pass/fail stages along the way. For her, it's important for physical and mental health to start intermediate series as soon as practice and breathing are consistent. If you wait too long in primary while you 'perfect' various asanas, you could get injured by the constant repetition of forward bends.
A healing process
I experienced this first hand. After spending years practising primary alone, I had constant inflammation in my lower back and pain in my knees too. But after Nancy taught me intermediate and encouraged me to alternate it with primary, these pains disappeared and my body got stronger. It made so much sense: my practice was much more balanced, with the backbends of intermediate complementing the forward bends of primary.
Opening up to the world
The mental and emotional sides of practising intermediate have been important too. As a person with a quiet, internal personality, too much primary can lead to me getting stuck inside myself; all those forward bends get very inwards in their energetic direction. But, by opening the front of my body in the intermediate poses, I find it easier to open up and connect with the world and other people.
Lifting mental barriers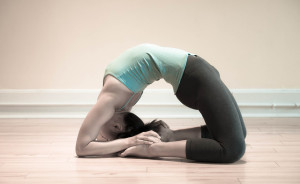 One more benefit to practising intermediate I'd like to mention: it has freed me from being daunted by it. By having a go at these difficult postures on a regular basis, I'm not intimidated by them anymore. A lot of mental barriers have lifted due to simply 'having a go' – even if my attempts are far from perfect.
To sum up, practising intermediate has helped me physically, mentally and emotionally. It has healed injuries and given me confidence in my ability to tackle the practice. I make regular trips to Maui to study with Nancy and am very grateful to her for showing me this approach. I also really enjoy practising in Mysore and have been going regularly in recent years.
Read more about how Nancy Gilgoff learned primary and intermediate together in her article Ashtanga Yoga as it Was.
And find out how I managed to keep practising after giving birth to my daughter last year in my previous post Baby steps: practising after childbirth.
– Louise
What do you think?
Have you practised with Nancy? Does your teacher allow you to follow different 'rules' than those currently taught at KPJAYI? What do you think of this approach? We'd love to hear from you, so let us know your thoughts by leaving a comment below.