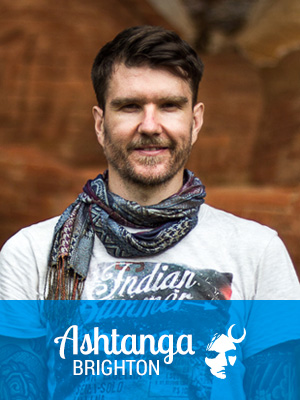 Who's really behind Ashtanga Brighton? We thought it'd be fun to do a series of Q&A sessions with each of our team members, and first up is our founder Guy. What are his biggest challenges in life? Where would he be if he hadn't started yoga? And is he more of a trainers or heels kinda guy…?!
What gets you out of bed in the morning?
I've learned to love getting up early, at 5am most days. The first 2½ hours are so special for me and I use the time for reflection and practice. For me it's the best part of the day… it's still dark and so peaceful. I use the time to prepare my body and mind for being in the world.
I love the fact that I work for myself and have clients who need help in the digital world. Each day is so full of challenges and discoveries: What an adventure! Of course coffee plays an important part in motivating me. The long answer is above, the short answer is: freshly hand-ground coffee!
What are your biggest challenges in life?
Separating illusion from reality in order to take appropriate action. My mind can be a train wreck sometimes, littered with all the baggage of the past: strange beliefs about myself, others and hopes and fears for the future.
Not acting from a place of fear can also be tough… Get a job, earn more money, work harder, fit in, and what about that pension? I'm not saying this stuff isn't important but I just don't want to be ruled by fear. I suspect one of my challenges is not to go too far the other way – taking great risks with little reward for the sake of avoiding conformity.
How would your best friends describe you in 3 words?
What a Guy! You did say best friends didn't you…?
Do you have a favourite inspirational quote, phrase or saying?
"We shall not cease from exploration, and the end of all our exploring will be to arrive where we started and know the place for the first time" – TS Eliot
What's your favourite film or book?
Book: the cyberpunk classic "Neuromancer" by William Gibson.
Film: "Bladerunner (The Final Cut)" by Ridley Scott.
If you could share one insight from your practice for a beginner, what would it be?
Asana practice is not sacred, your relationship with yourself and others is.
If you had never started yoga where do you think you'd be now?
I'd be less skinny, less tired and a lot more stiff in my body. I suspect that I would have dived deeper into my Ninjitsu practice and headed off to Japan. The funny thing is that I've been drawn to yoga and India for so long that it's hard to visualise what life I could have had.
Perhaps I would have focused more on building a successful business. But I suspect that I will always combine the physical with the spiritual, I think it's partly how I'm wired and partly how I've learned to be.
How do you deal with stress in your life?
I live a simple life, prioritising my own mental and physical health. I'm still learning to choose what I commit to more carefully. The consequence is that I have little stress in my life. That will change I'm sure. I make an effort to go to bed early and eat properly. I also maintain good close relations with a small group of friends and my Mum and Dad… Sometimes they are a cause of stress and then I try and practice acceptance around them. One thing I've learnt along the way is that I'm powerless over people, places and things. I almost always find that useful to remember when I'm kicking off.
Are you more…
…digital or analogue?
Digital.
…Lord of the Rings or Harry Potter?
Harry who? Never seen them… But my Dad read me The Hobbit when I was a child so I'm definitely a Tolkien fan.
…trainers or heels?
Trainers, I never wear heels.
…sweet or savoury?
Savoury. I used to have 3 or 4 squares of dark chocolate every night and was partial to a croissant or pain au chocolat most days, but broke the daily habit. I have chocolate and cake very seldom now. My weakness is for crisps but they're sadly lacking in India – or I suspect I've not put enough effort in.
…minimalist or hoarder?
Minimalist hoarder. I have a small collection of records and CDs and a small book collection, mostly relating to yoga, business and design.