It's all about the chocolate
Mysore was once a dry ground for the true chocolate lover, only offering a few brands with a milky, tasteless substance. Sweet-toothed yogis would have to bring their own bars by the kilo to sustain them during their stays, but not anymore! Chocolate started popping up here and there around Gokulam. Trupti Coffee aka Chocolate Man started selling home made bars and this year Nature's Nectar also offers a great variety. And then of course there is the king of chocolate – Earth Loaf!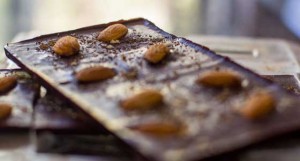 If you're anything like me, mad about chocolate, and have paid Mysore a visit in the last year or 2, you have most likely come across their beautifully packaged and not only tasty, but also healthy, raw chocolate. The story of Earth Loaf is really a story of one man's hard work and passion. Passion for food, passion for nature and passion for how he could combine those two elements into something that will melt in your mouth.
The man behind the bar
David Belo is the man behind the sweet magic. I meet him in his chocolate factory 10 minutes drive from Gokulam where he greets me with a big smile and lots of energy, despite the hot midday sun. He shows me around the place while every now and then turning to his staff, and in perfect Kannada giving commands in that very Indian style of shout-talking that incorporates equal amounts of authority as love. The factory is one big bright room with different stations where 4 people work: David and his 3 helpers Sankalpa, Manjula and Pramod. I get served some delicious hot cocoa tea from one of them while David shows me around and describes the process that takes place every week to produce the chocolate, as well as his own journey that took him to Mysore and this room.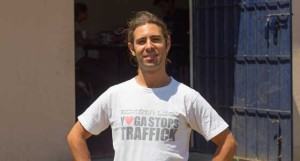 He was born and raised in Cape Town in a Portuguese family, where he stayed until he was 13 and they moved to London. At 16 he started working in a cocktail bar in the West End where he developed a great pallet for flavours and textures. It was also in London that he met his Greek partner Angelica (who many students might have met for energy healing or been adjusted by in the KPJAYI shala). They moved to Glastonbury where David trained as a pastry chef and baker and it was also there that the company Earth Loaf was first born. Back in London they continued with the company, baking artisan sourdough bread and making delicious, healthy, raw food supplied to selected shops and stores.
Mysore it is
Angelica had been to Mysore to study Ashtanga, but David hadn't. When they both sat down in cold, dark London and thought about where they wanted to start a new adventure, Mysore was the place that they both felt strongly about.
"We wanted to be somewhere hot and nice and where we could start a new project without a mountain of gold to do so," says David.
They moved to Mysore in October 2011 and David set about making and selling cashew cheeses while at the same time harbouring a long love and dream for chocolate and chocolate making. It was in his little kitchen in Gokulam in 2011 that he took his first steps into what would become the factory we stand in today. He sourced the beans and learned the process on his own, the very first product being the dark chocolate bar that is still an important part of Earth Loaf's range today.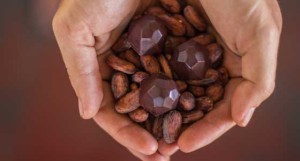 "I felt like a drug dealer in those days with people coming around to our house, exchanging goods for money," he says with a laugh. "The bars didn't have any stickers or fancy packaging in those days, that took until 2014." That was the same year he made Earth Loaf an Indian company.
Realising he needed a bigger place than his humble kitchen, he started looking around and was offered to rent the factory space by Meeta Gupta of Silver Nest in Gokulam. She was also the first one to sell his home-made chocolate in her shop. It was hard in the beginning. He did everything himself, from the process of actually making the chocolate, to running the paper works, talking to suppliers, making deliveries and even repainting the new factory.
In early 2014 the first staff member joined Earth Loaf and today he employs a team of 3 local staff.
"I want to give back, I want to keep it local and hopefully we can expand and hire even more people from the area. They are amazing workers, very passionate, and do a fantastic job."
From bean to bar
I leave the tea on the counter while David walks me through the different stations in the factory and show me how it all works. He holds up a bean and says "It all starts with the beautiful bean. Traditionally, companies only deal with one of the 2 processes involved, the first one being to get the bean into chocolate mass and the second to make chocolate out of that. Here I do both."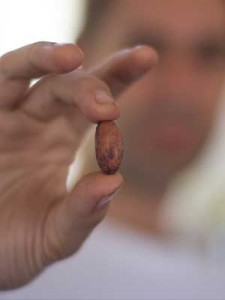 Keeping it all local, he sources the beans from south Mangalore on the West Coast of Karnataka. They are single origin which, as any bean enthusiast knows, means high quality as every bean comes from the same farm or a farm close by. They get 60 kilos of beans delivered every week, which produces the same amount of chocolate.
For someone who's always wondered about the art of chocolate making this is like a fun day in school. David explains that there are 3 steps just to separate the shells properly from the bean. We start by the first station where you break the bean. David seems to not only be a food wizard but also seems to have some sort of MacGyver skills in him. The machines to break the beans are traditionally big, bulky and most of all expensive, but David has come up with his own solution. He uses a bicycle that is not only eco friendly and gives the staff a little workout, but also effectively breaks the beans. This process separates the bean from its shell and makes it into chunks.
The next stop is old school sifting on top of metal nets where the beans and shells get separated further. After that comes 'winnowing' – another technical wonder David has come up with where the beans go into a tube, the remaining shells get sucked out by something that sounds like a hoover, and the heavier nibs fall down into a container.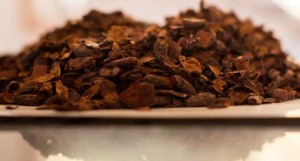 After this comes grinding. This is where the dry nibs get mashed together in huge pots and form a shiny mass of chocolate that makes me want to stick my whole head inside and take a big slurp. The big pots were originally used to grind millet for dosas and idlis and are also locally sourced. The mass is grinded for a whopping 72 hours while palm sugar gets added. The long hours of grinding helps to create the smooth surface and lower the acid taste. David is about to put the lids on the 2 big pots but discovers there is some water inside. He gets a towel and dries them while explaining to me and the staff that one single drop of water in the mix will ruin the 30kg of chocolate mass and be wasted, so they have to be very careful.
Shape it, mould it, taste it
We move on to the next station which is a huge granite table where 'slabbing' takes place. The chocolate mass is spread out over the table and moved around to loose heat. David explains there are 6 crystalline bonds in chocolate and one of them gives it its shine. In order to do so the mass has to hit exactly 100℉ and then drop down to 90℉.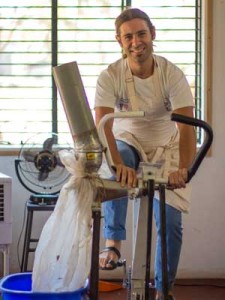 This is also the table where the moulding happens. Fillings and flavours have been prepared separately and get applied, stuffed, mixed or filled in. The artwork on the moulds has been designed based on folk art from around the area where the bean is from, just like the pattern and design on the packaging.
The next step is putting the chocolate into boxes that are handmade by the staff, who by now are sitting at the last station cutting and glueing with fast, efficient fingers.
I get to taste the latest product – Almond & Smoked Salt bar – whilat finishing my tea. I ask one of those obvious questions you might ask in Mysore. "Do you practice?" David shrugs. "I started practising Ashtanga when I met Angelica but I already had a spiritual practice so I did it the other way around. I took to the spiritual side quickly but a lot longer for the physical part. Normally people start yoga to get healthy and fit and the philosophy and the spiritual stuff comes later. Yoga kept me grounded though, I needed that at the time." For the last couple of months he has had to take a pause in his practice as he works long hours and his staff needs him at the moment to train them up properly.
Yoga in business
"I wanted to see if you could start up a business by using your spiritual side. I use my intuition rather than intellect for every decision from employees to suppliers," says David. We sit on the stairs to the factory looking out over the grass outside, the 2 big shiny grinders behind us churning the chocolate around. "My ultimate goal is to put yoga into business and not business into yoga."
The response to his products has been amazing. "But it's a bespoke chocolate that won't be for everyone. The international palette seems to appreciate it a bit more and so in the next couple of months I'm looking to sell not only in Mysore and Malaysia but also to America, the UK, Europe and South Africa."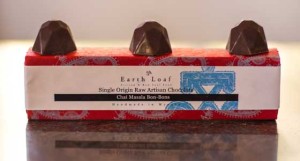 At the time of publication, Earth Loaf offers Raw Cacao Tea infusions, 72% Dark Chocolate Bar, Almond & Smoked Salt Bar, Cacao Nib & Palmyra Sugar Chocolate Bar, Chai Masala Bon-bons, Tiramisu Coffee Cream Bon-bons, Fig & Cashew Ladoos (only in Mysore) and Raw Cacao Nibs. But who knows what will be on offer when the next season comes around and the next batch of yoga students pour in.
From what I can see, the future is as bright and shining for Earth Loaf as its delicious chocolate.
To order online or find our more visit www.earthloaf.co.in
– Leia