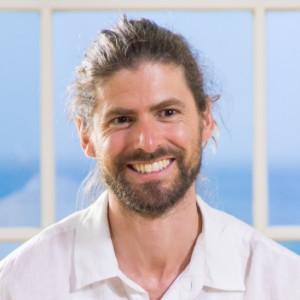 If you read the post I wrote back in April, James Boag: Lord of the Kirtan!, you'll know how much I admire and appreciate the teachings of James Boag.
Having spent a great deal of time in Mysore studying Sanskrit and Indian Philosophy, as well as practising yoga asana and travelling the world, James certainly knows his stuff. So I'm delighted to announce that he's now bringing his teachings to Brighton for the first time.
James will be offering a 4-hour weekend workshop in December which will include a storytelling satsang, meditation and kirtan (devotional singing). He has a wonderful way of applying key aspects of Indian and yoga philosophy to everyday life, making them relevant, practical and accessible to everyone in the modern world. So, whether or not you practice yoga, you can be sure to find insight and inspiration from James's thought-provoking speech and moving music.
No prior experience of yoga, yoga philosophy, kirtans or singing is needed; just a willingness to participate in and receive the wonderful blessings James has to offer.
Now, I know it can feel a bit risky booking a workshop with a teacher you've never met before, especially so close to Christmas, but trust me when I say this is one you don't want to miss! You're sure to leave the workshop feeling uplifted, inspired and rejuvenated – just in time for the busy festive season.
And you can watch James in action online to get a better flavour of his teachings and how he works. His Yoga Anytime page includes a video introduction, a detailed bio, and links to many of his recorded teachings, including his recent Bhagavad Gita course. You'll need an account to watch the videos, but if you go to YogaAnytime.com, sign up for the free trial and enter JAMESBOAG in the "Gift Certificate or Coupon Code" box, you'll get 30 days for free instead of the usual 15. There are some great resources on the site too, so it's worth a look.
Here's a summary of the workshop details:
Date: Sun 13 Dec
Time: 2-6pm
Place: About Balance, 14 East Street, Brighton (above VBites cafe)
Cost: £20/£25/£30 (karma card/earlybird/standard)
Click on the button below for further details and bookings:

Hope to see you there!
– Hannah