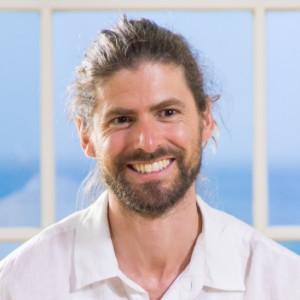 For the busy reader, I shall reveal the end before the beginning of my story. My recommendation is to beat a path to attend any workshop James Boag is prepared to run in the UK. His time here will be limited and, before long, in great demand.
In case you are still reading, I must admit I wrote James off before I arrived at our session . Too handsome, rather too young and there is an Australian beer of the same name. Who could possibly take him seriously?
Nonetheless a packed room was evidence that many are prepared to give a man of such clear disadvantage a chance. And these big hearts of the yoga community were right to do so. Disarmingly personable, yet humble, this is a teacher who dissolves barriers whilst earning respect and rapt attention. He is knowledgeable, engaging, authentic. A long-term student himself, it is clear that his teachers in India have served us well.
Expecting the unexpected
In yoga practice, it is intriguing to imagine the synchronicity, disguised as motivation, which gets us in front of the right teachers. Have you noticed this on your own path? Here on a windy pre-Christmas Sunday afternoon, in the heart of the Lanes of Brighton, there were many other distractions on offer.
So what got us there? Some may have hoped to learn something of yoga philosophy. Many more looked forward, I'm sure, to some first-class storytelling. Who, after all, doesn't like a good story, well told? Like its cooking, the ancient myths of India intrigue us with their vibrancy and colour. Yet the pantheon of archetypes, and the layering of the stories, can be confusing to Western minds. In qualified hands, they can be lovingly unpacked, to delight the modern global audience, just as they did the unschooled of ancient times for whom they were intended.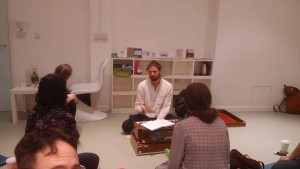 Master storyteller
James's hands are well-qualified as caretaker and curator. A master storyteller, he left no-one disappointed with the entertainment. Yet there is a deeper purpose to the most enduring of our stories. A subject of endless fascination to Carl Jung, no less, myth stories of all cultures contain hard-earned wisdom, planted in time-capsule form by our ancestors. None more so, for him, than those of ancient India. In our myths are planted the seeds of awakening. When they ripen matters not, that they have been planted matters a lot. And this is what you'll get from a session with James.
How about that? A good teacher can make the esoteric accessible and fun. Many of us instinctively love Ganesha, for example. James can tell us what we knew, subconsciously: what Ganesha stands for and why his qualities are so endearing to us. This, for me, was worth the ticket price alone.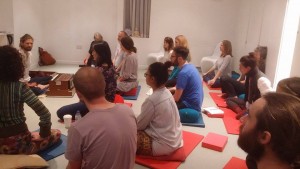 Loosening the knots and opening the heart
Then there is meditation. Raja yoga, the divine vehicle, celebrated in the Upanishads, which can lead to the pinnacle of our yoga practice. We practise asanas, lest we forget, to loosen the knots and the blocks which hinder meditation. Here the guidance was focused – a well-aimed series of blows to crack open the layers with which we protect our hearts. Priceless.
And finally, Kirtan, the sacred, uplifting chanting in Sanskrit. Well if this was intended as a little heart opening before tea time, I have to say it blew the doors off, leaving all of us astonished at the beautiful noise we could make. What a celebration of all that is, and all we are, in this divine communion of bhakti yoga! It seemed as if the walls and ceilings melted, and we were singing with the stars. If you missed him this time around, make sure you catch him at the next opportunity.