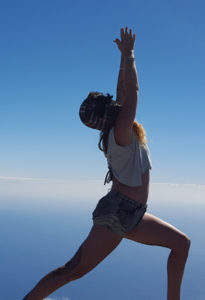 Great news for Ashtangis in East Sussex and beyond: Vanessa Gilgoff will be teaching in Lewes on 20 to 22 October. Sign up to experience Vanessa's authentic, fun and compassionate approach to Ashtanga, which she has learned direct from her mother Nancy on Maui.
Led primary Ashtanga workshop with Vanessa – Sat 22 Oct
Info: After a brief introduction, Vanessa will lead the class through the series of postures in the Ashtanga primary sequence. It is not necessary for you to be able to do them all and you can stop at any time and observe. After a lie down and a break Vanessa will share with us what holds true for her in her teaching and her practice and we will be lucky enough to hear Vanessa's tales from the mat and of the life of a travelling yogi. A rare treat!
When: Saturday 22 October 8.30am to 11.30am
Where: St Michael's Church Hall, High Street, Lewes
For who: Open to all
Cost: £40 payable on booking
Special self-practice classes with Vanessa – Thu 20 – Fri 21 Oct
Info: Two self-practice Ashtanga classes with Vanessa – some chat but mostly yoga
When: Thursday 20 and Friday 21 October, start time 8am to 10am
Where: Lewes – venue tba
For who: All levels welcome although some experience of self-practice required
Cost: £15 per session or £25 for both, payable on booking
A bit about Vanessa
Vanessa Gilgoff has been around Ashtanga Yoga all of her life. She was raised in Maui, Hawaii, surrounded by people who were very passionate about Ashtanga Yoga – she was practically doing yoga in the womb!
Her teaching style is very traditional and is the way that Pattabhi Jois originally taught her mother in 1973.  Vanessa is very fortunate to have always considered Pattabhi Jois her grandfather, growing up with him as a constant presence in her life.
For the past 10 years she has been dedicated to the practice, and for the past 6 years she has been teaching all over the world, assisting her mother, Nancy Gilgoff, in workshops and bringing her own flavour and fun to these classes.  Two years ago, she began assisting in the daily classes on Maui in the winters as well.
She has been to Mysore, India, numerous times and has always enjoyed a close relationship with the Jois family.
Vanessa brings her own style into the yoga room and her classes are serious but also filled with lots of laughter.
Email sumiya@loveandlentils.net to book or if you have more questions.