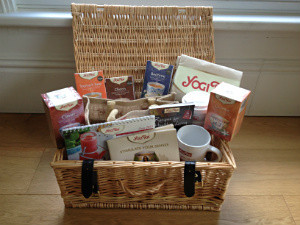 The lovely people at Yogi Tea have been busy redesigning and updating their look, and offered to send us a hamper of goodies so we could try it out for ourselves. So imagine my delight when I came home from a 2-month trip in Italy to find this beautiful hamper awaiting my return.
Cooking with tea?
As well as a range of their delicious teas to sample, they also included a mug, travel mug, jute bag, cotton bag, calendar, and even a recipe book! No, I didn't understand at first what teas could have to do with a recipe book, but you learn something new every day.
The recipes include such delicacies as Rose Pistachio Rice (using Yogi Tea Rose), Throat Comfort Sweet Bread (using Yogi Tea Throat Comfort), and Beetroot Muesli Crunch (using the contents of Yogi Tea Licorice). There's also a simple yoga posture on each page, complete with the benefits of each.
Ayurvedic spice infusions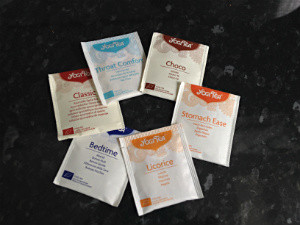 In case you haven't come across Yogi Teas before (where have you been hiding?), they're organic Ayurvedic spice blends and infusions, many of which have particular healing benefits. Some of the varieties include Ginger Lemon, Sweet Chai, Stomach Ease, Green Energy, Choco Chili, Detox, Bedtime and Women's Balance.
Featured on each box are a simple yoga pose (e.g. "Simple Yoga for Balancing and Strengthening the Body" and "Yoga for Mental Clarity"), information related to the Ayurvedic doshas and an inspirational quote or saying. I particularly like "There are two ways the mouth can betray us: what we put into it and what comes out of it".
Inspiration in every cup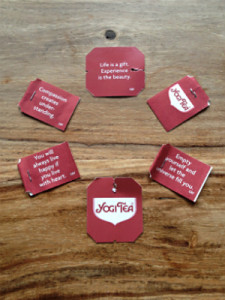 Perhaps one of the best and most unique things about Yogi Teas is the little nugget of inspiration found on each tea tag. So whilst you sip on your morning tea you can also enjoy a little piece of wisdom or positive affirmation to carry with you through the day.
"Life is a gift. Experience is the beauty."
"Compassion creates understanding."
"Empty yourself and let the universe fill you."
"You will always live happy if you live with heart."
And every Thursday you can share this on Twitter using the hashtag #TeaTagThursday – if you feel so inclined!
The winners!
Now you know how good Yogi Teas are, I bet you're dying to get your hands on some! So this is the bit you've all been waiting for…. the competition winners!
To enter the competition all you had to do was Like the post on Facebook this week (sadly only open to UK residents). We've chosen 3 winners at random who will each win 2 boxes of Yogi Teas.
And those lucky winners are….
Claudi Steinhauser Shiva Renfe Munroe
Hanna Nightingale
Catherine Swann
Congratulations!
I'll send you a private message on Facebook so I can get your contact details and send your tea out to you very soon.
Happy sipping!
– Hannah
What do you think of Yogi Teas?
Have you been drinking them for years? Had you never heard of them before? What do you think of their new look? Do you have a Tea Tag you'd like to share? Get in touch using the comments section below.