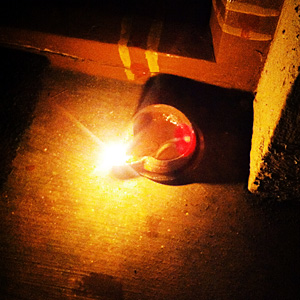 I can't believe it's been 28 days already! The days just seem to blur into each other. Last year was our first trip to Mysore and my Mother and I arrived on the last day of Diwali which was an exciting and slightly hallucinogenic experience. It's Diwali or the festival of light again now and there's a light shining brightly in Mysore too and it draws Ashtanga practitioners from around the world, to practice at the source at the KPJAYI.
First impressions
Last year Bengalaru airport was very much under construction. I was impressed on our arrival this year as we were met by a brand new airport. The latest technological innovations abound, including my personal favourite: The self-flushing toilet. I first discovered one of these wonders at Landvetter Airport in Gothenburg. It seems these are all the rage in airport design and if you're well travelled this is probably old hat to you by now. But coming from South Africa, these do impress the hell out of me.
We were whisked off by our driver in a fancy white 4×4 – always a good way to travel in India. As we drove through the early morning traffic in Bangalore I noticed improved roads, more completed construction projects and new construction under way. India is galloping into the 21st century at pace. The change was noticeable in just 10 months!
Settling in
We arrived in late September giving us 5 days to settle in before the shala opened. This is a really nice way to ease oneself into Mysore life. It takes me at least a week to get into a decent sleeping pattern and the first few days are always the toughest. Quiet home practice in the Indian heat was a also a nice way to start a new rhythm of practice.
Accommodation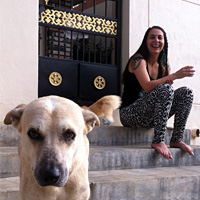 This year we've got good, reasonably priced accommodation and a lovely Indian landlord. The best thing of all is we have a backup generator so even during the frequent power outages we've had wifi and electricity. It took us 3 weeks to get our own broadband installed which feels pretty reasonable seeing as it was the 9 day Dasara festival was just kicking off on our arrival.
Changes at the shala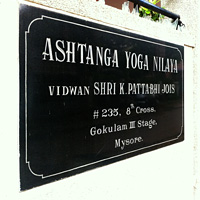 The big change from last year is that Sharath has moved the rest day to Sunday with weekly conference on Saturday afternoon. On registration we discovered that Sharath would be teaching led primary for 4 days. There were two led classes each morning 04:30 and 06:00. Leia and I were given a 06:00 start time so we went to the 2nd led class. These 4 days of primary were a great way to get us all breathing and moving together and felt like a great start to the season.
Connecting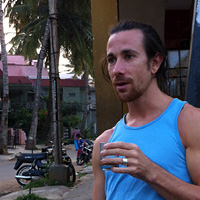 It was great to reconnect with friends we made on last year's trip and make some new friends too. It's been great to hang out with our friend Joey who's also here for the month of October before heading off with his family to teach at Purple Valley in Goa.
Practicing at the shala
Last year we practiced with Saraswati at her shala. We both really enjoyed this. It has a lot going for it. It's more relaxed and there's more space. Practicing at the main shala is intense. The focus and energy is full-on. You really do feel like you're right in the centre of the flame. It's a special place to spend time for sure.
Fever
Of course no trip to India is complete without some sort of digestive disruptions and Leia and I have both caught a mild stomach bug over the last week. Nothing too serious and thankfully it passed quickly. I remember getting a very similar bug last year at around 4 – 5 weeks in to our trip. I'm hoping this has strengthened our immune systems, I guess time will tell.
Akash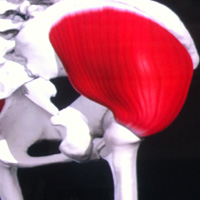 Leia's been suffering from a hamstring injury over the last few months and decided to go see a body worker called Akash. I'd heard tales of excruciating, but healing sessions with him that left me intrigued. Leia came limping back from her session singing his praises but also offering a warning that it was indeed agony. I decided to book myself in and see if he could help with my chronic back ache.
I was blown away by the session. Akash has in depth anatomical knowledge and the multi-media presentation to back it all up. While he talks his assistant pulls up 3D anatomical illustrations of what he's talking about. He was very quickly able to formulate a theory of what was causing my pain and then put it to the test with the hands on body work. In my case my right side gluteus medius is super tight and this was what was so excruciatingly painful during the body work. But I did experience immediate relief and was able to forward bend in a way that I have never done in 8 years of practice.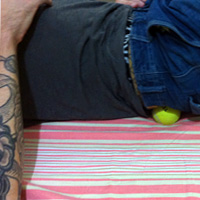 Akash was quick to say that the road to recovery wouldn't be instant and he gave me a routine of stretches and massage exercises to help me continue the release and recovery process.
I feel greatly encouraged by the experience for three reasons: firstly, Akash has given me the tools to aide my own recovery, secondly he didn't try and sell me 10 sessions for the price of… and thirdly I've felt a big difference and no back pain over the last week.
Saying goodbye
Sadly next week we say goodbye to some of our friends who are only staying for a month this year. I remember feeling like I was only just finding my rhythm last year after a month and I'm grateful to have the opportunity to stay a full 3 months.