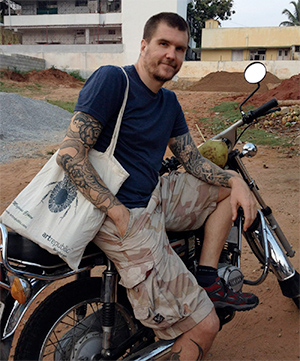 We've been back for nearly a month now, and our trip to Mysore feels like a distant memory. It's been tough adjusting to practicing in much cooler, darker conditions (but as Bill says – it's nothing compared to Stockholm!) After a week in Gothenburg over Christmas I'm looking forward to getting back to group practice at the BNHC on Thurs 2nd Jan (Wed the 1st is a Moonday – how cool is that?!).
After my rather popular blog: Mysore first time tips, accommodation, I thought I'd stick to my guns and write the rest of the posts in the series. If just one person reads this and gets some useful information, saving them money and hassle then it's a job well done.
But it's worth reading my earlier post on finding accommodation in Mysore first because it's related to this one. Finding a good place to stay is going to be much harder if you don't have your own transport.
This is what we did
We were living close to the shala on Contour road, but after making 3 trips to the shala in one day and various social engagements I got pretty bored of walking and my back was aching too.
Now, in India it's not so easy walking on the pavements (or sidewalks, if you prefer) as one would think, due to wreckage and a myriad of obstacles living and otherwise. The concrete is potholed, pockmarked and dangerous terrain. So most people walk in the street (which is marginally less potholed) but you do have to contend with the swirling maelstrom that is India's traffic.
In the ecosystem that is India's roads – pedestrians are low on the foodchain – I was keen clamber up this evolutionary ladder a few rungs and get around quicker.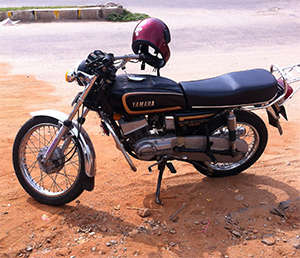 So I went to see Shiva about getting some transport. Some of my friends had scooters but I can ride a motorbike – Shiva was pretty skeptical about this – and I had to do a test by driving up shala road and returning with limb and machine unscathed. It had been over 15 years (Shhh… don't tell Shiva!) since I'd ridden a motorbike but somehow I managed to pass the test.
I paid a R10k (yes that's right: Ten thousand rupees) deposit and he charged me a day rate of R120/day. I'm sure I could have haggled over this – I will next time!
Shiva told me to memorise the number plates (I think there was a K in it – for Karnataka) and to say that it was a friend's motorbike if I was stopped by the police and that I should wear the helmet he provided if I was going outside Gokulam. I didn't bother him with the minor detail that I don't possess a valid motorbike license (Do you know what the weather is like in England?!)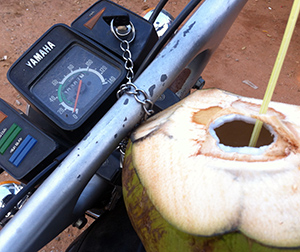 Off I went on my black Yamaha RX135 – with the wind blowing in my ears – (I shaved my head before going to Mysore as some kind of strange transformational ritual). Suddenly my 20 minute walk to Saraswathi's shala was transformed into a 2 minute bike ride! Hurrah!
I was blessed that we were not stopped by the local constabulary. We made quite few trips into town and visits to various hotels. A couple of people I spoke to had been stopped and had to pay a cash fine. I'm not sure whether this was for not wearing a helmet, not having a license or both.
Based on these anecdotes I'd always recommend wearing a helmet outside Gokulam (and for safety reasons of course!). I think you're less likely to get stopped if you're wearing a helmet. I'd also recommend getting an international drivers license before going to India.
Here are some thoughts about other modes of transport I encountered:
Bicyles
I first tried to hire a bicycle, Shiva was dismissive – there's no margin in bicycles! So went down the road to the bicycle repair shop which had a lovely selection: one bike I tried was so small that my knees bashed the handlebars when I took a test drive. The other bike was a ladies bicycle – which I had difficulty trying to explain to the bemused repairman.
Besides being pretty rough, the roads are also covered in fine sand at strategic points, this makes cycling on anything other than a double suspension mountain bike a bit of a bumpy ride. I think I may be a bicycle snob – I ride a fixed wheel in Brighton.
I did see some practitioners on bicycles but it didn't look like much fun to me.
Scooters
This seems to be the main mode of transport for Mysorians. Scooters are much easier to drive as they don't require any fancy gear changing coordination. Personally I don't like the little wheels which make for a more unstable ride and less sure road handling compared to a motorbike.
Auto rickshaw
My Mum and I caught auto rickshaws before I got the bike. Here are some suggestions on getting around by auto rickshaw or 'autos' as they're known locally. Always agree a price before you jump in. From the shala to the market in town should be around R50. Always haggle for the price. I could write a whole blog post about haggling – which I find great fun.
Rickshaws are keen to wait for you. This can complicate the pricing somewhat – again haggle before you jump in. I made a fatal rookie mistake of not doing this once and in the end the driver insisted that I pay him what I thought his time was worth and then promptly doubled whatever I said. Haggling is fun before you've been served because you can always walk away (which normally drops the price dramatically) but you can't walk off once you've sampled the goods so to speak.
Hiring a car and driver
We did this when we went to Bylekuppe Tibetan settlement for a day trip. Ganesh (from Anu's) organised a great 4×4 and driver for the trip. We split the cost 6 ways which made it great value.
Bus
I never caught a bus but there is a good bus service into Mysore city centre and a bus stop located near the coconut stand on Contour Road. I was surprised and impressed by the modern Volvo buses that I saw in Mysore – these are the same buses we have in the UK and besides being of high quality Swedish manufacture are a sign of substantial investment in the city. There were also older buses that were bulging with passengers hanging out the open doors.
A motorbike transformed our stay in Mysore. I hope you find this post useful. If you found it helpful then give: Mysore, first time tips: accommodation a read. The next post in this series will cover the all important to topic of food.